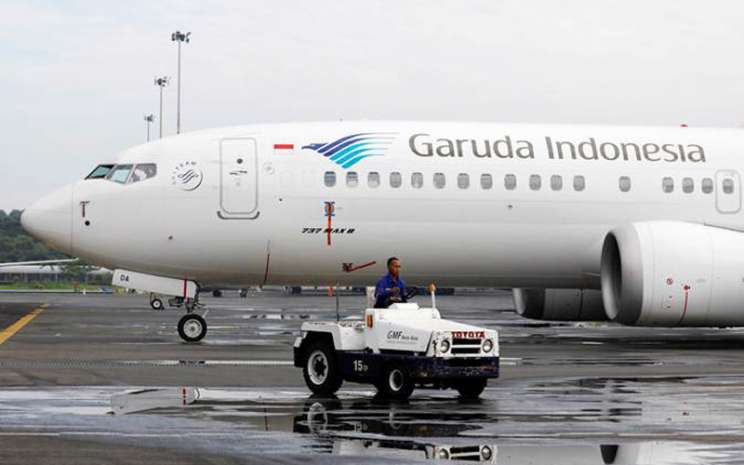 Indonesian flag carrier, Garuda Indonesia, is facing corruption and bribery allegations. (Image via Market Bisnis)
U.K investigates GI's corruption case
Serious Fraud Office (SFO) of the United Kingdom (U.K) is investigating the bribery and corruption allegation case involving the Indonesian flag carrier, Garuda Indonesia (GI). In addition to the case, SFO is also investigating the Canadian aeroplane manufacturer, Bombardier Inc., for the involvement in the case with GI though a deal with the former President Director, Emirsyah Satar.
On Thursday, the Wall Street Journal reported that Bombardier released their Q3's financial report amid the investigation by the SFO. Bombardier stated that it is running internal review on the transaction with GI, including acquisition and rent for CRJ1000 aeroplane in 2011 and 2012.
Moreover, the review is done after Emirsyah was charged for corruption last May. According to the Corruption Eradication Commission (KPK), Emirsyah received millions of dollars worth of bribery through an intermediary and contracted producers with Bombardier such as Airbus SE and Avions de Transport Regional (ATR), and Rolls-Royce. Emirsyah was sentenced to 7-year imprisonment and fined 2.1 million Singaporean Dollar for bribery and money laundering on aeroplane and engine of Airbus and Rolls-Royce.
Bombardier stated that the case also involved money laundering related to the procurement with other producers, including the Canadian company. According to their claim, Bombardier was not charged in the process.
Bombardier's spokesperson stated that the company has decided to cooperate with SFO's investigation, one of the latest corruption investigation on Indonesian airline. Some notable companies have become the subject of the investigation.
On the other hand, Airbus SE admitted that it has promised to take significant actions to prevent such incidents from reoccurring. Nonetheless, GI, Rolls-Royce, and ATR declined to comment.
Previously in 2017, Rolls-Royce Holding PLC agreed to pay more than US$800 million to the American, British, and French prosecutors to settle the corruption investigation. Airbus agreed to pay 3.6 billion Euro on joint agreement with the American, British, and French prosecutors to settle the bribery and breach of export control allegation cases. Last year, Bombardier agreed to sell its regional business sale, including CRJ1000 to Mitsubishi Heavy Industries Ltd., at US$550 million.
The Minister of State-Owned Enterprises (BUMN), Erick Thohir. stated that he supports the investigation on the corruption case involving GI as part of good corporate governance and transparency. Moreover, Erick asserted that the Ministry would coordinate with the authority, KPK, Ministry of Law and Human Rights, and judiciary to handle GI's case.
Source: https://bit.ly/2IajUIx