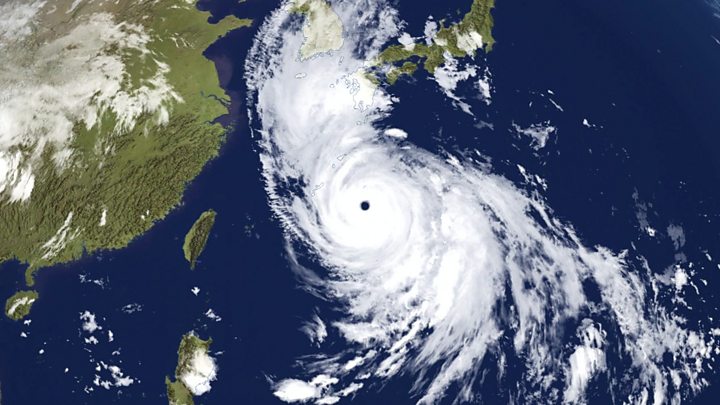 Typhoon Haishen hit Japan. (Image via BBC)
Typhoon Haishen blows and rains over southern Japan
On Monday yesterday, Typhoon Haishen approached South Korea after sweeping southern Japan with record-breaking torrential rain and wind that caused millions to be evacuated and warnings broadcast. Despite its minimum damage, hundreds of thousands of Japanese homes across the southern Kyushu island were left powerless. By Monday morning, Haishen had weakened while blowing 216 kilometers per hour. In its strongest gust, the experts estimated that Haishen could blow cars away and break the powerline poles.
Minor injuries, most were the elderly, were reported due to falls. In Goto, Nagasaki Prefecture, four people had to be rushed to the hospital due to being hit by window glass hurled by Haishen, according to the testimony of the local firefighter department. However, the exact cause of the window incident remains unknown whether the wind of Haishen smashed it or other kinds of stuff that blown onto the window.
Kyushu Electric Power estimated that about 476.000 homes were powerless, in fear of heatstroke as no power for air conditioning. The non-compulsory evacuation order was issued for more than 7 million people at the peak of Haishen, for the authorities still avoid the novel coronavirus (COVID-19) infection by preventing mass gathering at the evacuation shelters.
While some people evacuated, some booked hotel. For example, Hotel Polaris in Shibushi, Kagoshima Prefecture, was fully booked, the first time during a typhoon. Meanwhile, some shelters had enough space for the evacuees to apply the social-distancing measures.
Haishen also damaged buildings and halted transportation such as trains and flights. However, as the typhoon has weakened on Monday morning, the transportation services were expected to run normally. Haishen is the second-most powerful typhoon to hit Japan during the typhoon season until October. The first position is still grasped by Typhoon Maysak.
Source: https://bit.ly/2R4uW38