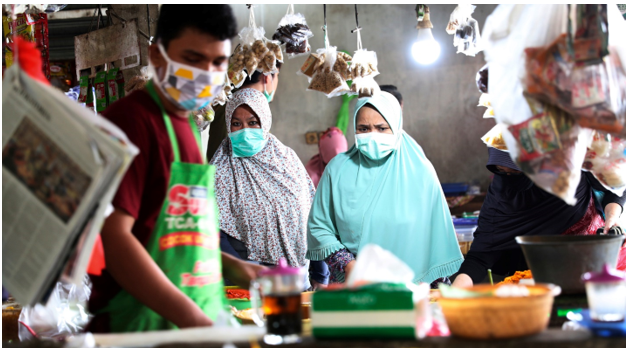 the possibility of traditional market to be new cluster for CIVID19
Traditional market merchants infected by Covid-19, a number of markets in Jakarta will be closed
Mayor of central Jakarta Bayu Meghantara plans to close a number of traditional markets because the sellers are positive COVID-19. The plan of temporary closure of the traditional market will be coordinated with PD Pasar Jaya.
"We will coordinate with the market manager. Because first, at least there should be cleaning, then sprayed disinfectant. Secondly, so that the Covid-19 does not spread in the market, "said Bayu in Jakarta, Wednesday, June 10, 2020.
The mayor asks the community, both the buyer and the salespeople should keep the health protocols strictly so that the prevention of the transmission of Covid-19 can be done.
Some markets will be temporarily closed, among them Sabeni market because it found 12 reactive traders Covid-19 after mass rapid test, and Rawa Kerbau market because it found two positive traders Covid-19.
Bayu said the closing market needs to coordinate with Pasar Jaya because it can impact the economic activities of the people.
"We coordinate first. At least today we do clean up, so that people can understand, this is for the common interest, "said Bayu.
Bayu Meghantara has mentioned that it will launch a Covid-19 Check for tracing AS well as search (screening) to determine the spread of Coronavirus in its region.
In addition to the screening is coordinated in the area of strict control (WPK) Jakarta Pusat city government also plan more vigorously perform rapid test or rapid test in public facilities that are close to WPK zone including the market.
Some of the markets that have been taking part in rapid test and swab test include Serdang Kemayoran Market, east of Rawa Kerbau Cempaka Putih Market and Sabeni Tanah Abang market.
Previously, nine positive COVID-19 merchants in Serdang Market, two positive COVID-19 traders at the Rawa Kerbau market, and 12 people with reactive results after undergoing a quick test at Sabeni market and still waiting for the results. Previously, people who doing activities at the Market did not follow the health protocol like physical distancing and using masker. Now, coronavirus cases in Indonesia increase about 1.241 cases on Wednesday, 10 June 2020.
Source: http://shorturl.at/emIO8