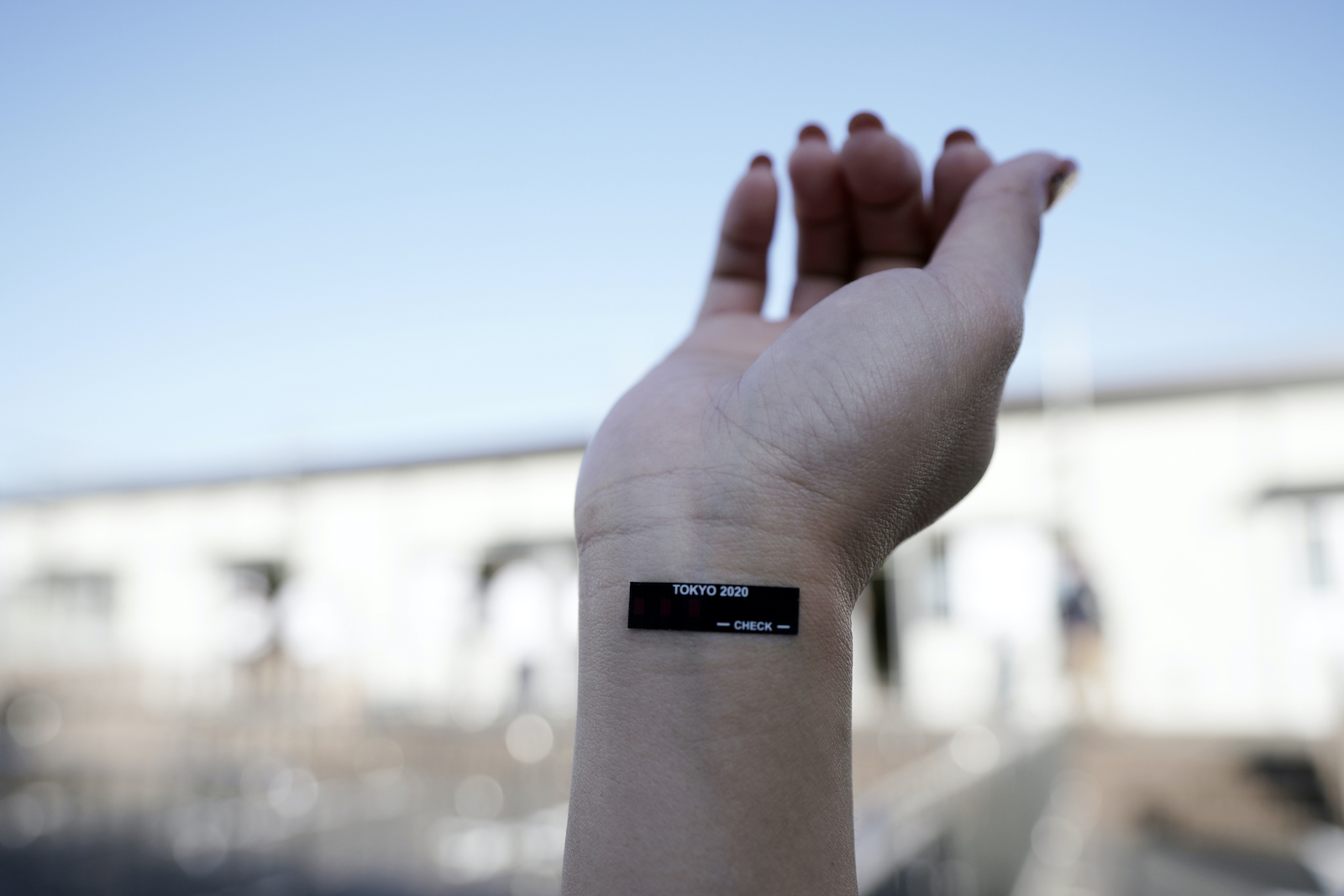 Thermometer strip that immediately detects fever in volunteers. (Image via AP/Eugene Hoshiko)
Tokyo Olympics organizers unveil COVID-19 protocol
On Wednesday, the Tokyo Olympics organizers finished a three-day trial of security at Tokyo Big Sight and countermeasures against the novel coronavirus disease (COVID-19) by asking spectators and officials to pack less and wait less when entering the venues during the Games. Tokyo Big Sight was supposed to be used as the media center during the postponed Summer Olympics.
During the trial, the organizers tried out various techs to monitor body temperatures also used for sporting events around the world during the pandemic, such as thermometer cameras and non-contact infrared thermometers. Moreover, the trial also saw the first usage of thermometer strips which were pasted onto the wrists of the volunteers. The strip contains heat-sensitive liquid crystals which immediately detects fever.
Next, the organizers also checked how smoothly the spectators can walk through the inspection area while being enforced to maintain the social distancing measure. In order to test their readiness for the postponed Tokyo Games in 2021, these volunteers are also presented with more than 40 scenarios, including forgetting to wear a mask and trying to smuggle aerosol cans through the security gate. While the result shows promising results, the organizers are trying to hold more trials when full and concrete COVID-19 protocols have been decided. Until now, the Tokyo Games organizers are not sure to allow spectators to enter the venues during the postponed Summer Olympics, held from 23 July - 8 August 2021.
The data from a survey done by the Tokyo Metropolitan Government (TMG) showed that almost 80% of the volunteers are afraid about the widespread of the COVID-19. Almost half of the 13,000 volunteers worried that the delay will also affect the enthusiasm toward the Summer Olympics. TMG promised to compile infection control manuals to provide a safe and secure environment for volunteer activities and do further trials. Meanwhile, online training will continue until March 2021 when the volunteers will be notified of what role will they get at the Games.
Source: https://bit.ly/3dNHCG5