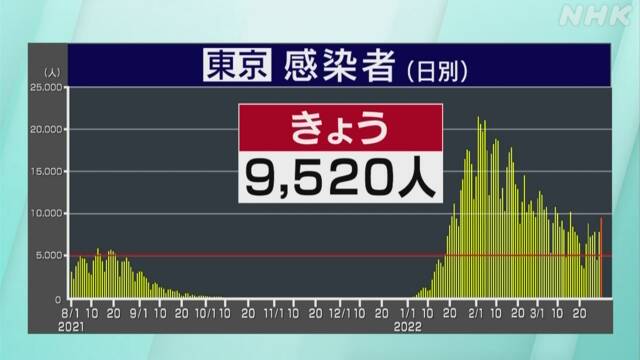 https://www3.nhk.or.jp/news/html/20220330/k10013559241000.html
Tokyo New Corona Virus 11 people died 9520 people confirmed infection More than 3000 people increased from the previous week
The number of confirmed infections on the 30th in Tokyo was 9.520 people, increase of more than 3.000 from last Wednesday, about 1.5 times. It was also announced that 11 people with confirmed infections had died.
People aged under 10 to over 100 have been infected with the new corona virus in Tokyo.
The average for 7 days up to 30 days was 7622.6, 121.1% of the previous week. It exceeds 100% for two consecutive days.
The person in charge of the city said, "The average for 7 days has risen in these 2 days, but I can't tell if it's really rebounding and increasing. Anyway, I want you to try to avoid 'denseness'."
Looking at 9.520 people by age group, "20s" was the most common, 1.831 people, which was 19.2% of the total. The number of elderly people aged 65 and over was 418, which was 4.4% of the total.
The transmission route of these 3.566 people, the largest number of people at home was 2.434, It accounts for 68.3%.
In addition, the number of severely ill patients using a respirator or ECMO (heart-lung machine), which was calculated according to the standards of the city so far, was 32 people at 30 days, a decrease of 1 people from 29 days.
Meanwhile, the city has announced that 11 people, including men and women under the age of 10 and those aged 60 to 100 and over, who have been confirmed to be infected, have died.
It was the first time that a person under the age of 10 had been confirmed dead, he was found unconsciously at home and was taken to the hospital, but died, and subsequent autopsy revealed that he had an underlying blood disorder.
Out of all 11 people who died, 6 people had a known transmission route, and there were 2 people each at home, in the hospital, and in the facility for the elderly, all 11 people had underlying illness.
Source: https://www3.nhk.or.jp/news/html/20220330/k10013559241000.html