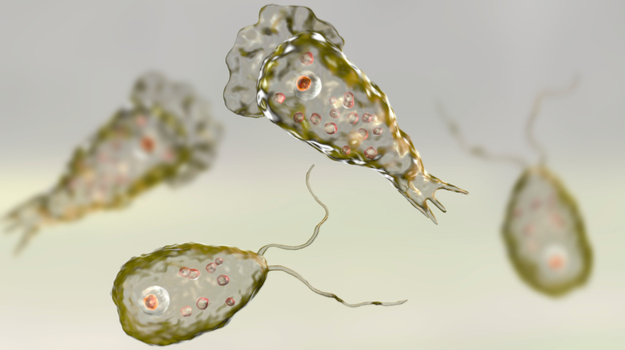 The brain-eating amoeba, Naegleria Fowleri. (Image via BioSpace)
Texas Govt announces state of emergency over brain eating amoeba
Since Sunday, the Texas state governor, Greg Abbott, declared a "Disaster Declaration" in Brazoria County following the death of a six-year-old boy on 8 September 2020 due to an amoeba infection, Naegleria fowleri, that consumed his brain. Naegleria fowleri is a deadly amoeba found within the hose under the splash park that the boy was playing at, as AFF reported.
Not only hose but also the same deadly amoeba is found within the water of fountain and splash park in the downtown and even fire hydrants in the city just an hour away from Houston.
The Naegleria fowleri amoeba is known to grow in the warm, freshwater of the lake or river. It even grows in a pool that lacks maintenance. The brain-eating amoeba enters the body through the nose membrane to the brain. The symptoms are heavy migraine, hyperthermia, stiff-neckedness, nausea, vomiting, extreme fatigue, confusion, and hallucination.
The grandparents of the deceased said to the Houston Chronicle that their grandson might be exposed to the contaminated water when he was playing at the splash park downtown. Not so soon after, the boy fell ill. The authority had been closed down the splash park and through the "Boil Water" notice, locals were advised to avoid tap water for drinking, showering, or cooking.
While the notice has been revoked, the locals are strongly advised to boil water before usage. Currently, the Texas government is working together with Lake Jackson and other health services such as the Centers for Disease Controls and Prevention (CDC) and the Environmental Protection Agency (EPA) to tackle the water contamination issue.
Source: https://bit.ly/3jp83Uo