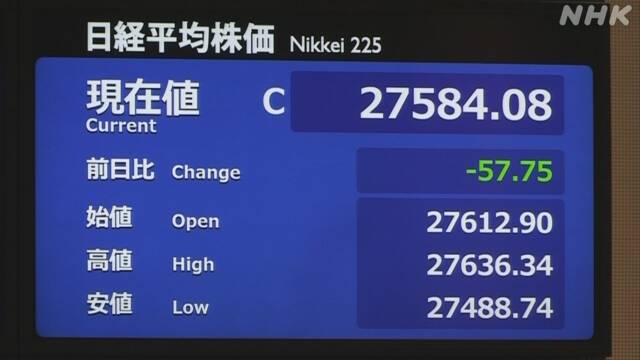 Stock prices fall, concern over economic outlook due to re-expansion of infection, sell orders dominate
Tokyo stock market on the 4th, stock prices fell.
The Nikkei Stock Average closed at ¥27,584.08, down ¥57.75 from March 3.
The Nikkei Stock Average closed at 27,584.08, down 57.75 points from the previous day, and the Tokyo Stock Price Index fell 9.71 points to 1,921.43.
The daily trading volume was 1,074.02 million shares.
Market participants said, "Many investors were cautious about trading due to the renewed spread of the new coronavirus in Japan and concerns about the economic outlook, and selling orders were dominant. On the other hand, rising stock prices in the Shanghai and Hong Kong stock markets supported investor sentiment, limiting the downside.
Source: https://www3.nhk.or.jp/news/html/20210804/k10013180691000.html?utm_int=news-business_contents_list-items_003