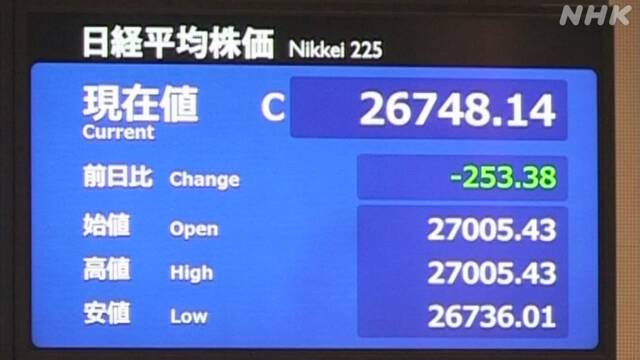 https://www3.nhk.or.jp/news/html/20220524/k10013641591000.html
Stock Price Declines, Price Increase, and Profit-Taking Movements Increase by Selling Stocks
The stock price of the Tokyo stock market on May 24th fell due to the lack of materials that could be used as clues for aggressive transactions, and the increasing movement to sell stocks that had been rising and to secure profits once.
Ø The Nikkei Stock Average, the closing price on May 24th, is 26,748.14 yen, which is 253.38 yen lower than the 23rd.
Ø Tokyo Stock Price Index = Topics fell 16.31 to 1878.26.
Ø The daily trading volume was 1,113.51 million shares.
Market officials said, "While prices continue to rise sharply, investors are still wary of the future of the world economy, and today's Tokyo market is often trying to sell stocks that have been rising recently to secure profits. In the afternoon, the decline in the Nikkei average stock price widened, partly because stock prices fell in major Asian stock markets."
Source: https://www3.nhk.or.jp/news/html/20220524/k10013641591000.html