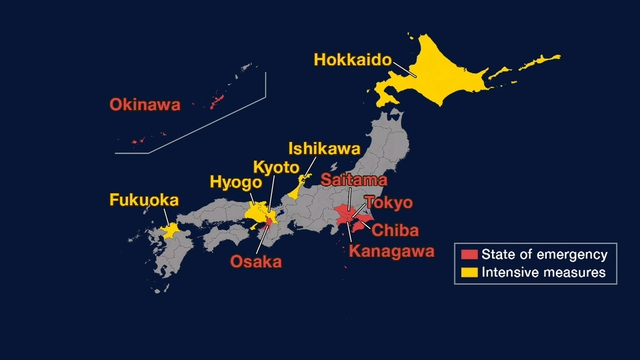 State of emergency expanded to 4 more prefectures
Japan's coronavirus state of emergency has taken effect in Osaka and three prefectures neighboring Tokyo due to a surge in new cases in those areas.
On Sunday, Tokyo confirmed 3,058 new coronavirus infections, while Kanagawa reported 1,258 cases, the third highest daily tally for the prefecture.
Saitama and Chiba confirmed 899 and 767 new cases, respectively. Both figures are the second highest on record for these prefectures.
The state of emergency that has been in place in Tokyo and Okinawa was expanded to include the three prefectures and Osaka on Monday.
Residents in these areas are urged to refrain from nonessential outings. Dining establishments are asked to close by 8 p.m. and not to sell alcohol.
Kanagawa Governor Kuroiwa Yuji said on Sunday that the number of new infections has been increasing despite the stricter anti-coronavirus measures that were already in place. He said that the surge in new cases reflects people's unwillingness to fully observe the measures.
Kuroiwa warned of a possible collapse of the medical system, saying that if people call an ambulance, it may not come, and even if it does, there would not be any hospital to accept the patients.
Saitama Governor Ono Motohiro said his prefecture is facing a critical situation where hospitals are becoming overwhelmed by COVID-19 patients and that could take a toll on other patients.
He stressed the need to step up support for medical institutions and public health centers.
The central government is also warning that the highly contagious Delta variant is creating more risks for the situation in Japan.
Health minister Tamura Norihisa has urged the public to avoid high-risk behaviors, and called for their understanding and cooperation.
The government is offering free PCR tests to people flying from Tokyo and Osaka to Hokkaido, Okinawa, and Fukuoka in an effort to put the virus under control.
Source: https://www3.nhk.or.jp/nhkworld/en/news/20210802_12/