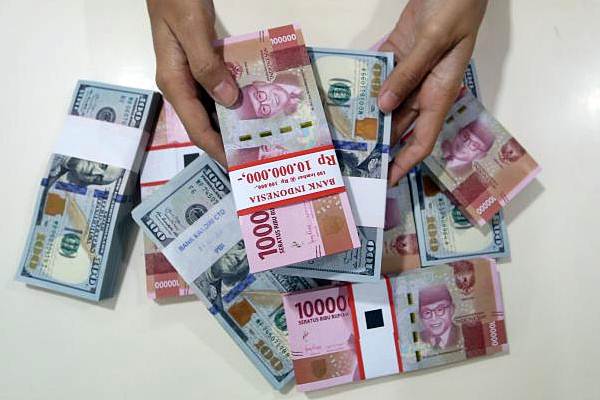 IDR prevails against the USD at the beginning of 2021. (Image via Market Bisnis)
Starting 2021 strong, IDR strengthens to Rp13,917
On Monday's foreign exchange (forex) spot market opening, the Indonesian Rupiah (IDR) marked the beginning of 2021 with the rate of Rp13,917 against the U.S Dollar (USD), The rate went up by 0.90 percent, compared to Thursday's closing rate at Rp14,050/USD.
Today, the majority of currencies of Asian countries strengthened altogether against the USD. Reportedly, the Japanese Yen (JPY) strengthened by 0.14 percent, Singaporean Dollar (SGD) by 0.16 percent, S. Korean Won (KRW) by 0.01 percent, Philippines Peso (PHP) by 0.01 percent, Chinese Yuan (RMB) by 0.32 percent, Malaysian Ringgit (MYR) by 0.44 percent, and Thai Baht (THB) by 0.01 percent. Nonetheless, New Taiwan Dollar (TWD) and Indian Rupee (INR) both weakened by 0.13 percent and 0.07 percent respectively.
On the other hand, the currencies of developed countries showed different reactions toward USD. Reportedly, the Great Britain Pound sterling (GBP) and the Australian Dollar (AUD) weakened by 0.10 percent and 0.25 percent respectively, while the Canadian Dollar (CAD) and Swiss Franc (CHF) went u by 0.17 and 0.28 percent respectively.
Indonesian analyst and the Head of Research at Monex Investindo, Ariston Tjendra, stated that IDR might be strengthening today against the USD, at the start of 2021. The optimism is backed up by positive sentiments such as an expectation for the stimulus in the U.S, the Brexit deal, and the commencement of vaccination against the novel coronavirus disease (COVID-19) pandemic. Therefore, Tjendra stated that the USD index is still suppressed at around 89.
Nonetheless, the domestic market is still anticipating the spike of COVID-19 cases in Indonesia. The Indonesian Government is considering to step on the "emergency brake" if the case is uncontrollable. However, the decision might be harmful to IDR.
For today, Tjendra stated that IDR is moving around Rp13,950 - Rp14,100/USD.
Source: https://bit.ly/2KOmdmh