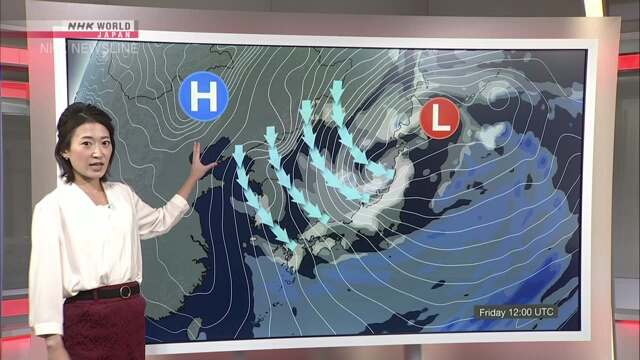 Snow intensifying in northern, western Japan
Weather officials say snow is intensifying over wide areas of Japan, especially along the Sea of Japan coast in northern and western regions of the country.
The Meteorological Agency says a typical winter-type pressure pattern around Japan is letting a cold air mass blow in above the archipelago.
Kanazawa City in Ishikawa Prefecture had 20 centimeters of snow during the six hours through 8 a.m. on Friday.
During the three hours through 8 a.m., the town of Otoineppu in Hokkaido had 20 centimeters of snow, Fushiki in Toyama Prefecture's Takaoka City had 17 centimeters, and Kochi City had 12 centimeters.
Winds are also getting stronger. A maximum wind gust speed of more than 110 kilometers per hour was observed in Hokkaido's Nemuro City at 8 a.m.
During the 24 hours through Saturday morning, Hokuriku is forecast to have one meter of snow. Niigata Prefecture can expect 90 centimeters; and Tohoku, Tokai and Chugoku, 70 centimeters.
Weather officials are urging caution as heavy snow may disrupt traffic and cause power outages. They also warn of gusts, high waves and storm surges.
The officials say people in these regions should keep updated with the latest weather information and refrain from going out.
Source: https://www3.nhk.or.jp/nhkworld/en/news/20221223_08/