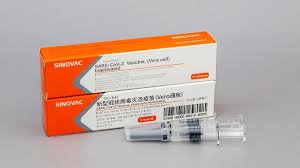 Sinovac Vaccine (Image Via: CNBC)
Sinovac Vaccine: Bio Farma Claims No Side Effect on Volunteers
The third phase of the covid-19 testing in collaboration with Sinovac is said to have gone well. Bio Farma's (Indonesian state-owned pharmaceutical company and Sinovac's partner in Indonesia) CEO, Honesti Basyir claimed that there was no significant side effect of covid-19 vaccine on volunteers who had been injected with the vaccine.
Basyir said, during a briefing in the Ministry of Foreign Affairs, that the clinical testing took a month to be done and for now there was no side effect found on volunteers. If things do not go sideways, the outcome of the testing could be seen in early 2021.
In early October or November, Bio Farma will request for an emergency use authorization from the National Food and Drug Agency. Bio Farma and the National Food and Drug Agency will conduct an audit and visit to the vaccine development facility in Beijing, China in the same month. The visit is to ensure that the production of vaccine is aligned with GMP (good manufacturing practice) principle.
Bio Farma's facility will also be audited by the National Food and Drug Agency. Currently, there are 250 million vaccines that will be produced in 2021. This shows an increase in quantity compared to the earlier plan to produce 100 million vaccines.
Sinovac was selected to be Bio Farma's partner because of its efficacy and method of virus inactivation. On July 19, 2020, Sinovac vaccine candidate arrived in Bio Farma. The initial delivery consisted of 2400 doses of vaccine. By the end of 2020, 20 million doses will arrive in Indonesia, before the massive delivery of 250 million doses in 2021.
Source: https://bit.ly/30s1Dg2