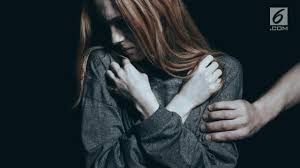 Illustration of resistance to sexual abuse (Image via: Liputan6)
Sexual Harassment in Covid-19 Testing
The Indonesian Police has arrested EF, the suspect of the recent infamous extortion and sexual harassment at Soekarno-Hatta International Airport. It all started when a testing client underwent a covid-19 test before travelling to Nias.
The victim was taking the test and got a positive test result. The victim then was asked to redo the test and paid a hundred fifty thousand rupiahs for it. However, this second testing did not work out well. The victim was asked to follow EF to a quiet place, where EF demanded additional fee of 1.4 million rupiahs.
After a manhunt was done, EF was finally arrested and processed according to the law. Airport police revealed the EF's motif to the media, saying that EF needed extra money. The harassment itself happened because of his immediate lustful drive. To the police, EF admitted that he had never done anything like this before. The police are currently verifying his claim.
Association of Doctors in Indonesia has been contacted by the police. They were asked of their explanation regarding EF's profession. However, their inquiries regarding EF's professional status are still hampered by the WFH system applied in the Association.
EF is a graduate of a medical school of a university in North Sumatera. EF was arrested in Samosir, North Sumatera by the police, and was charged with harassment, extortion, and fraud. According to the police, EF went (or fled) to North Sumatera upon knowing the virality of his case on social media. He allegedly fled to avoid prosecution and deliberately disobey the law.
Source: https://bit.ly/333g1wM