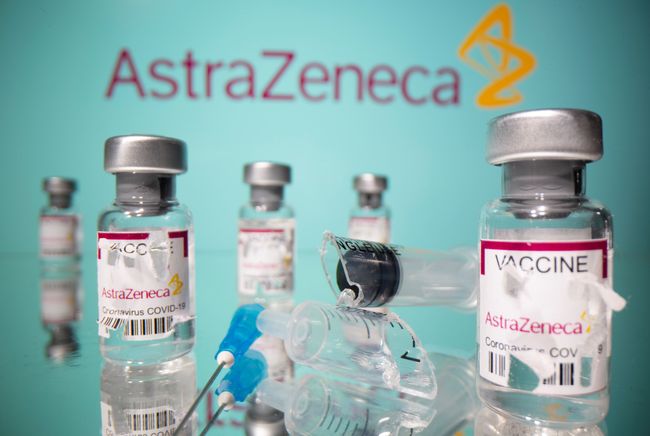 Illustration: AstraZeneca's COVID-19 vaccine. (Image via CNN Indonesia)
Reacting to AstraZeneca's defense, MUI: In LPPOM we trust
The Indonesian Ulema Council (MUI) stated that it still holds on to the finding and study released by its Food and Drug Analysis Agency (LPPOM) regarding the pork-based trypsin substance in the British-Swedish novel coronavirus disease (COVID-19) vaccine, AstraZeneca-Oxford.
The Chairman of the fatwa commission at MUI, Hasanuddin Abdul Fatah, responded to the statement released by AstraZeneca Indonesia, debunking the claim that the vaccine contains pork and other animal products. Furthermore, he stated that the LPPOM had found trypsin as a substance in the vaccine. Therefore, MUI had to release a "haram" edict for the vaccine, yet usable in the COVID-19 emergency condition.
Hasanuddin stated that MUI has trusted LPPOM in recent years. Moreover, the LPPOM's observation found that at the stage of host preparation for the virus, there were materials from components extracted from swine's pancreas, which is trypsin. This material is used to separate the host cell from the microcarrier.
LPPOM is an agency under the jurisdiction of MUI, responsible for halal inspection and certification. The halal certification and guarantee, designed and implemented by LPPOM, received recognition and is even adopted by numerous halal certification agencies overseas.
Previously, the Fatwa Commission of MUI announced that the AstraZeneca vaccine may be used in the COVID-19 emergency situation in order to curb widespread. With the LPPOM's finding, Hasanuddin pledged to restrict the usage of AstraZeneca should the other requirements have been fulfilled, such as the arrival of a more halal vaccine.
PREVIOUS DEFENSE BY ASTRAZENECA INDONESIA
On Sunday, AstraZeneca Indonesia state that the vaccine does not involve pork or any animal products in its production process. The written statement came as a clarification to the finding by MUI and LPPOM.
AstraZeneca asserted that the vaccine, produced in a collaboration with Oxford, does not contain animal products as declared by the Medicines and Healthcare products Regulatory Agency (MRHA).
Moreover, AstraZeneca Indonesia claimed that the vaccine had been approved by more than 70 countries in the world, including some Islamic countries such as Saudi Arabia, United Arab Emirates (UAE), Kuwait, Bahrain, Oman, Egypt, Algeria, and Morocco. Furthermore, AstraZeneca Indonesia said that Islamic Council all over the world had declared that the vaccine is allowed and safe for Muslims.
Therefore, on Friday, the National Agency of Drug and Food Control (BPOM) released its emergency use authorization (EUA). Previously, BPOM had halted its EUA approval considering the reports of cerebral sinus venous thrombosis (CSVT) following AstraZeneca's injection in European countries. Indonesia's Health Minister, Budi Gunadi Sadikin, assured that the distribution and vaccination with the AstraZeneca vaccine would start this week.
Source: https://bit.ly/3eZ3q4h