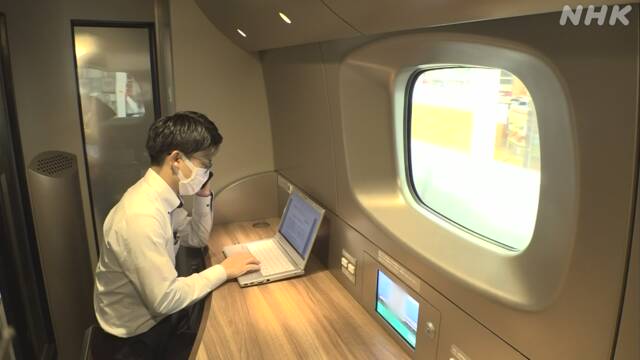 https://www3.nhk.or.jp/news/html/20220523/k10013638391000.html
Private Rooms Where Online Meetings Can Be Held Will Also Enhance Services for Shinkansen Business Customer
As the recovery of Shinkansen passengers is delayed due to the impact of the new Corona Virus, JR companies are strengthening services for business customers, such as remodeling the smoking rooms of vehicles to provide private rooms for online meetings.
JR Tokai and JR West have set up a private room called "Business Booth" on a trial basis from this month on some vehicles on the Tokaido Shinkansen and Sanyo Shinkansen.
The private room, which has been renovated from a smoking room, is equipped with a table, chairs, and outlets so that online meetings can be held.
Assuming the use of passengers in vehicles close to private rooms, it is free for 30 minutes each time.
Takafumi Tanaka, chief of the Central Japan Railway Company Shinkansen Railway Business Headquarters, said, "We are expanding the range of work styles that can be used anywhere, such as online meetings, so we would like to provide the services that our customers demand."
JR East also has vehicles for renting smartphone chargers on the Tohoku Shinkansen and Hokuriku Shinkansen, and while the recovery of customers is delayed due to the new Corona, there is a growing movement to strengthen services for business customers.
Source: https://www3.nhk.or.jp/news/html/20220523/k10013638391000.html