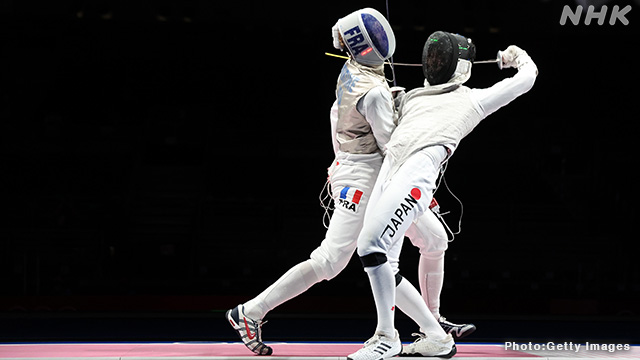 Olympic Fencing Men's Fleure Team Japan to Play for Third Place
In the semi-finals of the Men's Fencing Fleure Team at the Tokyo Olympics, Japan lost to France 42-45 and did not advance to the finals, moving on to the third place match.
Kyosuke Matsuyama, Takahiro Shikine, Toshiya Saitoh, and reserve member Yudai Nagano competed in the men's fencing team, and all but Nagano made it to the quarterfinals.
In the team competition, the first team to score 45 points or the team with the most total points after 9 matches wins.
Japan, ranked 7th in the world, defeated Italy, ranked 3rd, 45-43 in the quarterfinals, and faced France, ranked 2nd, in the semifinals.
Japan kept attacking bravely against their superior opponent in the beginning and led 15-11 until the third game, but they were unable to stop their powerful attack and fell behind.
In the ninth game, trailing by eight points at 32-40, anchor Matsuyama made a series of sharp thrusts to close the gap to one point, but it was too late and Japan lost 42-45, failing to advance to the final.
Japan will now move on to the third place match, where they will face the United States for their first medal in this event since the London Games.
Source: https://www3.nhk.or.jp/news/html/20210801/k10013174341000.html