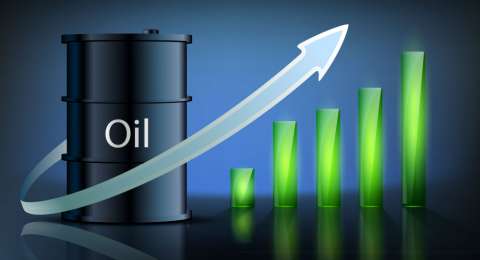 illustration of the increasing oil price
Oil Prices Rise Supported by Improved Economic Data
Global crude oil prices edged higher at the end of trading last Friday (24/7). The increase in oil prices was supported by improved economic data.
Quoting Antara, Monday (7/27), the price of Brent crude oil futures for September delivery rose three cents to US $ 43.34 per barrel. Meanwhile, West Texas Intermediate (WTI) crude oil for September delivery increased 22 cents to US $ 41.29 per barrel.
Within a week, Brent oil rose 0.5 percent, while US crude WTI gained 1.7 percent.
Based on IHS Markit's Purchasing Managers' Index (PMI), business activity in the Eurozone grew in July for the first time since the corona virus pandemic. This condition is a positive catalyst in the market.
Meanwhile, US business activity increased to its highest level in six months in July. However, US companies reported a decline in new orders because new Covid-19 cases were still increasing.
The addition of new cases has made the US economic outlook bleak. Some states re-impose social restrictions thereby reducing fuel consumption.
On the other hand, the number of Americans who filed for unemployment benefits reached 1.416 million last week. This number rose unexpectedly for the first time in almost four months.
However, the strengthening of oil prices was overshadowed by US-China feud sentiment. As is known, China ordered the US to close its consulate in the city of Chengdu, in response to US requests last week that China should close its consulate in Houston.
The latest tension in the two biggest oil consumers in the world has fueled concerns about fuel demand.
Source: https://bit.ly/2BDi3ck