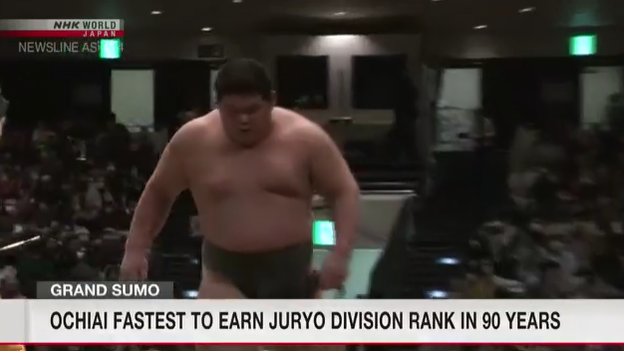 Ochiai becomes fastest sumo wrestler to reach juryo division in decades
The Japan Sumo Association says two wrestlers will be promoted to the second-highest juryo division. One of them has become the fastest to reach the tier in decades.
Senior members of the association met on Wednesday to decide rankings for the Spring Grand Sumo Tournament to be held in March this year.
Ochiai from the Miyagino stable and Tamashoho from the Kataonami stable were promoted to juryo.
Ochiai is the first wrestler to qualify for the division in just one tournament as a pro since the Showa era, which ended 34 years ago. He won the makushita division championship in the New Year Grand Sumo Tournament earlier this month by winning all seven matches.
Ochiai is 19 years old. He held the highest rank of Yokozuna in the national high school championships for two years in a row as a student in Tottori Prefecture.
After graduating, he made his debut this year in the makushita division based on his wins in amateur tournaments.
Tamashoho is from Mongolia. He is 29 years old. He came to Japan at the age of 18 and debuted in the 2011 autumn tournament.
Source: https://www3.nhk.or.jp/nhkworld/en/news/20230125_17/