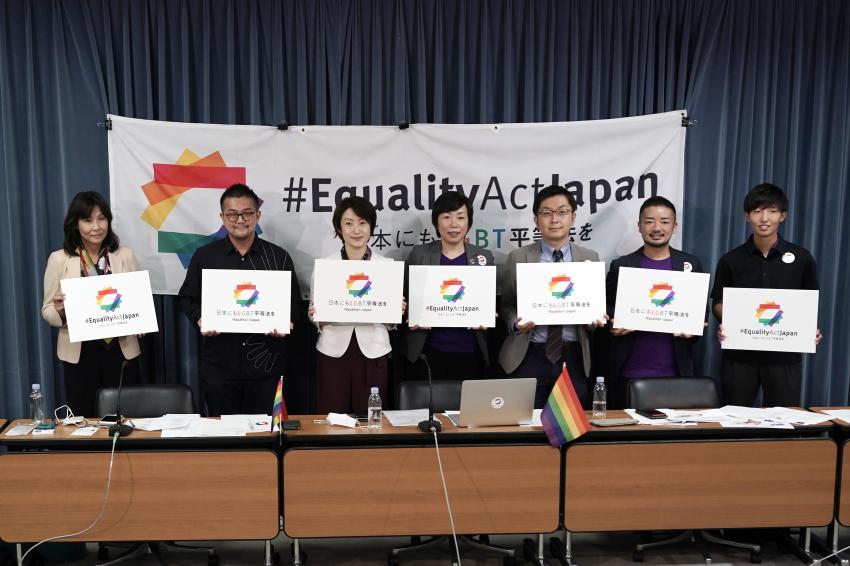 The representatives launched a petition for LGBT equality law. (Image via AP/Eugene Hoshiko)
LGBT in Japan seeks equality law
Revealed on Thursday, Japan is going to test preventive measures to contain the spreading of the novel coronavirus disease (COVID-19) at events with large numbers of spectators in a trial held in late October in Yokohama baseball stadium with near full capacity. The Japanese government is considering relaxing the current attendance limit to attend sports and other major events. From 30 October, the trial will cover three days. The stadium located near Tokyo was supposed to be the main venue for baseball and softball matches for the postponed 2020 Summer Olympics.
The Economic Revitalization Minister, Yasutoshi Nishimura, stated that the trial at Yokohama Stadium was approved by a government subcommittee on Thursday. Nishimura was appointed as the person-in-charge to fight COVID-19 in Japan. The trial will be brought out by the Kanagawa Prefectural & Yokohama city government, and major mobile game developer DeNA Co. After having a meeting with DeNA's founder, Tomoko Namba, Governor of Kanagawa, Yuji Kuroiwa, aimed to utilize the most advanced technology for the success of the Tokyo Olympics.
Regular games will be held during the three-day trial, and the stadium will be filled up to 80% of its maximum capacity and 100% on the final day. With high-precision cameras and beacons, the assessor will monitor the flow and density of the people and the percentage of mask-wearing spectators.
Previously, in September, Japan increased the limit from 5,000 to 10,000 yet retained the ceiling of 50% of the venue's capacity for events with over 10,000 spectators. The policy is effective through the end of November. While limiting the mass spectator events have been maintained, venues for small events with lower infection risks are given permission to operate at full capacity.
Source: https://bit.ly/379VTf5