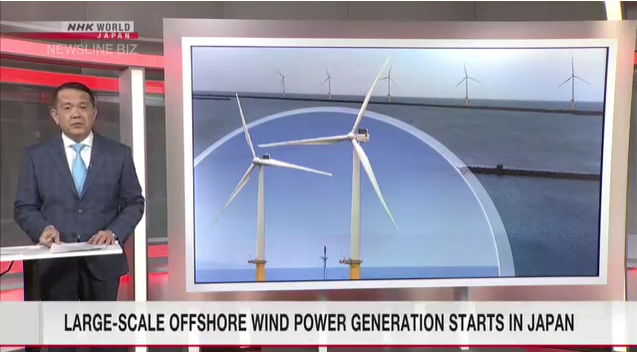 Large-scale offshore wind power generation starts in Japan
Japan's first large-scale offshore wind farm has started commercial operations in the northern prefecture of Akita. It's part of efforts to build a carbon-neutral society.
Offshore wind farms use larger turbines that enable more stable power generation than onshore facilities.
20 turbines with 60-meter-long blades started up Thursday and 13 more are scheduled to come on line next month. They are expected to generate enough electricity for 130,000 average households.
A joint venture company, Akita Offshore Wind, invested about 100 billion yen, or 760 million dollars, to build the 33 turbines.
Okagaki Keiji, president and CEO of Akita Offshore Wind said, "Akita is blessed with very good wind conditions and has excellent offshore geological features. We also had a lot of support from the local government."
The Japanese government has designated eight priority zones for offshore wind farms, including four in Akita.
At least 103 more turbines are slated to be installed in the four zones by 2030.
Source: https://www3.nhk.or.jp/nhkworld/en/news/20221222_22/