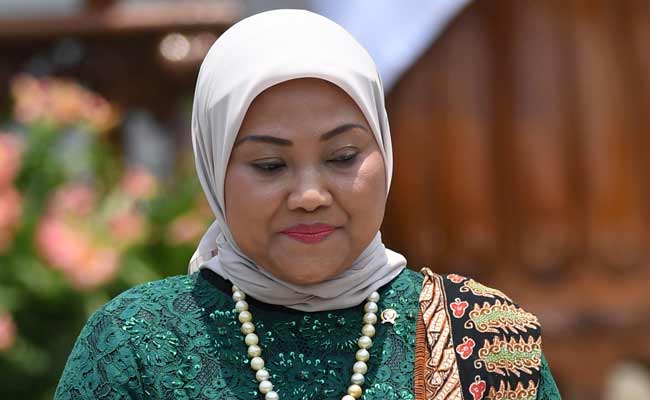 Indonesia's Minister of Labor, Ida Fauziyah, set 2021's minimum wage to be the same as 2020. (Image via Ekonomi Bisnis)
Labor Ministry: 2021 wage remains the same as 2020
On Tuesday, the Indonesian Minister of Labor (Menaker), Ida Fauziyah, has set the minimum wage in 2021, and it is the same as 2020. The decision was official as written in Circular Letter No. M/11/HK.04/X/2020 on the 2021's Minimum Wage Stipulation during Novel Coronavirus Disease (COVID-19) Pandemic, considering Indonesia's economic condition and the need for national economic revival.
Moreover, Ida also asked that the stipulation and notification of the provincial minimum wage be done no later than 31 October 2020. In the policy signed on 26 October, Ida explained that the pandemic also dealt blows to Indonesia's economy and companies' ability to fulfill workers'/employees' rights in wage payment. Next, Ida also asked the governors to implement the minimum wage stipulation post-2021 according to the laws and regulations.
According to the Government Regulation (PP) no. 78 of 2015 on Remuneration, the stipulation of the raise of minimum wage formula is a result of adding inflation and economic growth percentages. In 2020, the minimum wage is stipulate at 8.51%, based on the 5.12% economic growth and 3.39% inflation. By applying the formula, the 2021's wage will not be raised or experience only at least a 3.1% raise. The projection came from the government's economic growth projection at 0.6% to -1.7% and under 2.5% inflation.
Reacting to the decision, the President of the Confederation of Indonesian Trade Unions (KSPI), Said Iqbal, insisted that the minimum wage of 2021 be raised, even as much as 8% according to the calculation of the average wage's raise for the past three years. Furthermore, Said stated that with the rejection of the omnibus law on job creation, the demand for a wage raise will also result in more demonstrations to come.
Source: https://bit.ly/3jBn7xv