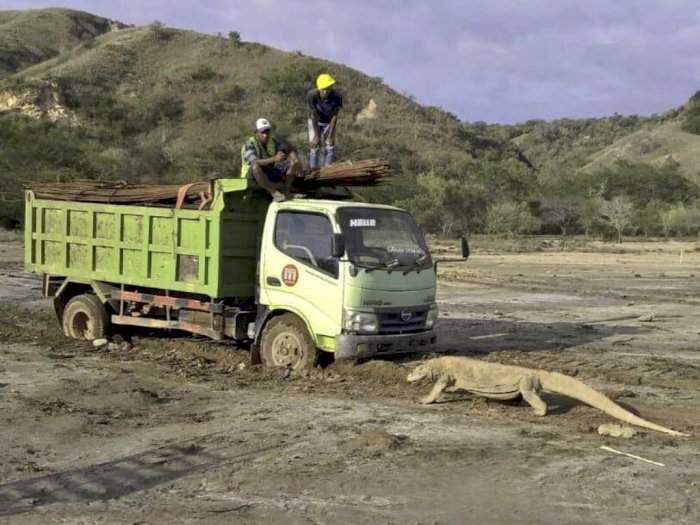 The viral picture featuring a komodo halting a truck carrying building equipment. (Image via INDOZONE)
Komodo National Park closed for 'Jurassic Park' project
Komodo National Park Office (BTNK), Directorate-General of Natural Resource and Ecosystem Conservation, and Ministry of Environment & Forestry has officially closed the Loh Buaya resort in Rinca Island, East Nusa Tenggara (NTT). The closure was officially done through the Notification Letter issued by the BTNK on Sunday yesterday. Therefore, the resort is closed from 26 October to 30 June 2021.
Allegedly, the closure was the result of a viral post that showed a komodo dragon halting a truck. However, the head of BTNK, Lukita Awang Nistyantara, denied the rumor. Lukita clarified that the closure was done in order to improve the development of tourism facilities in Rinca Island. These facilities included bay, tourist information center, komodo walk, and inns. He also ensured that the project will not compromise the safety and habitat of the komodos in Rinca Island by holding daily briefings with officials, workers, and supervisors to prevent work accidents which may harm the animals.
VIRAL POST STARRING KOMODO AND TRUCK
Previously, on 23 October a Twitter account, @KawanBaikKomodo, shared a tweet that went viral. The tweet presented a picture of a komodo going head-to-head with a truck carrying building equipment. The alleged location of the picture was in Rinca Island, a designated UNESCO World Heritage Site.
Coordinator of the Indonesian Forum for the Environment (Walhi), Edo Rakhman, also criticized the development of the so-called "Jurassic Park" project by the administration of the President of Indonesia, Joko Widodo. The project was proposed by the current Coordinating Minister for Maritime Affairs and Investment, Luhut B. Pandjaitan, in 2019. Once again, the name "Jurassic Park" was also coined by @KawanBaikKomodo in a tweet presenting a video on 10 October.
Edo said that Jokowi's administration has taken a wrong step, and should have done more to preserve the natural habitat of the Indonesia-endemic animal. While commercializing the project is another matter, Edo asserted that the project might destroy the natural aspect of Rinca Island's ecosystem. Judging the current conflict between the truck and komodo, Edo stated that the "Jurassic Park" project might cause a conflict between mankind and komodo in the future.
Source: https://bit.ly/2Tnu4Yn