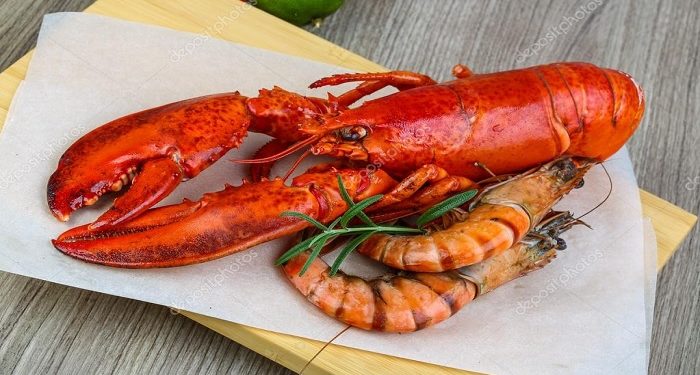 Illustration: Processed lobster and prawns. (Image via Islampos)
KKP focuses on prawn and lobster exports
Indonesia's Ministry of Marine Affairs and Fisheries (KKP) declared that for now, it focuses on the development of some high-value export commodities, such as prawns and lobsters. The news was confirmed by the Minister himself, Sakti Wahyu Trenggono.
Speaking on Wednesday, Sakti quoted the 2020 export data showing that the volume of prawn export reached 239.2 thousand tons, worth US$2.04 billion. On the other hand, the volume of lobster export reached 2,022 tons, worth US$74.25 million. Not only prawns and lobsters but also, KKP is looking forward to exporting more seaweeds.
Sakti explained that in order to increase prawn production and export, KKP would facilitate the development of "shrimp estate". The shrimp estate program is an intensive-scale cultivation system with an annual production target of 40 tons per hectare. Meanwhile, for lobsters, corporate cultivation will be done. The Minister hoped that the lobster's corporate cultivation would benefit the Indonesian people as well.
Besides prawns and lobsters, KKP also recorded the seaweed export as one of the most lucrative as well. Indonesia became the second-biggest seaweed producer, tailing China, with the 2020 export volume of 195,574 tons, worth US$279.58 million.
For the seaweed, Sakti aims to provide education and socialization for the Indonesian people by encouraging the usage of tissue culture seedlings, development of seed garden, distribution of seaweed drying, and provision of seaweed warehouse that implements the Warehouse Receipt System. Meanwhile, for the downstream aspect, Sakti aimed to build seaweed processing plants to push for more seaweed-based products.
Furthermore, he also revealed the plan for the cultivation village with the Corporate Farming concept in order to synergize various potentials to encourage the development of the system and business of cultivated fisheries which is controlled by the people and facilitated by the Indonesian Government. Some of the commodities developed are catfish biofloc village, tilapia biofloc village, carp village, barramundi village, lobster village, seaweed village, pangasius village, and ornamental fish village.
Source: https://bit.ly/3e2Vkad