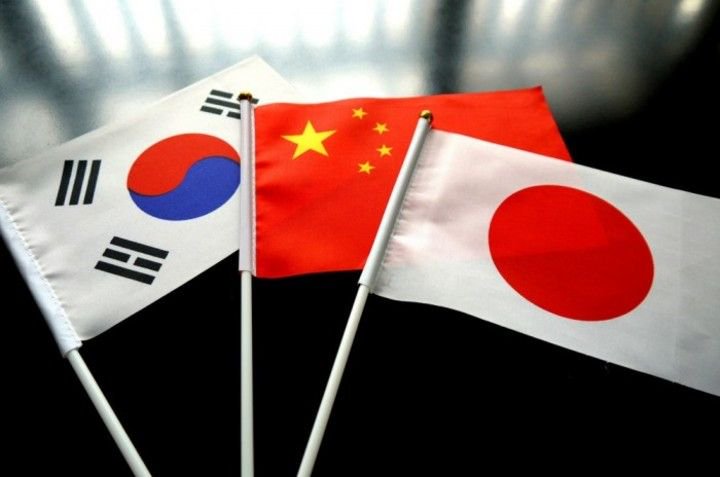 The 2020 trilateral meeting between China, S. Korea, and Japan is unlikely to be held due to S. Korea versus Japan row. (Image via ORF)
Japan to not attend trilateral meeting over wartime dispute
This year's trilateral meeting between Japan, South Korea (S. Korea), and China most likely would not be held because the Prime Minister (PM) of Japan, Yoshihide Suga, stated that he would not attend the meeting with his other counterparts without Seoul lifting its request for compensation for the wartime labor. The information came from diplomatic sources on Monday.
Since October 2018, the relations between Japan and S. Korea have been slumping to their worst point due to S. Korean top court demand for the Japanese company, Nippon Steel, to compensate for the wartime labor during the Japanese Invasion on the Korean Peninsula in 1910 - 1945 by paying four men. Japan argued that the compensation has been agreed on the 1965 bilateral agreement as Japan handed S. Korea financial aid with the understanding that the compensation issue has been resolved. Moreover, the court also seized Nippon Steel's asset and under process to be liquidated. If so, Tokyo said that Seoul has done irreparable damage to the relations.

Therefore, if Seoul wants Tokyo to participate, one condition will be the guarantee that the assets will not be liquidated. However, S. Korea is unlikely to make such a promise, as the decision by the judicial branch cannot be overturned due to the separation of powers, then the liquidation will be as early as December. Therefore, Japan will not come to the trilateral meeting.
Since 2008, the annual trilateral meeting between the three East Asian countries has been held to discuss economic cooperation and regional issues. For the 2020 trilateral meeting, S. Korea is set to be the host. However, Tokyo already said to Seoul in late September that Suga would not want to visit unless Seoul really paid attention to Japan's concerns. On Tuesday, the S. Korean Foreign Ministry stated that Seoul is still discussing with the countries concerned in order to still hold the trilateral summit this year.
Source: https://bit.ly/3drwq1N