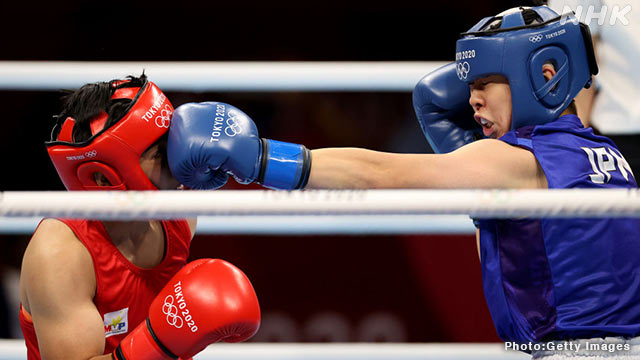 Japan's first gold medal in women's boxing at the Olympic Games - Sena Irie
At the Tokyo Olympics, Sena Irie won the gold medal in the women's featherweight boxing event. This is the first time for a Japanese athlete to win a medal in women's boxing.
Sena Irie, who won the gold medal in the women's featherweight boxing category, impressed me with her "smile" at this event.
From the first round, she entered the ring with a "smile" on her face.
In March last year, when Irie was selected for the Olympics, she was told by her university coach at the Asia-Oceania qualifying tournament.
He said, "Smile and have fun." After receiving this advice, he became conscious of smiling and was able to make good moves.
This is the gesture that baseball player Ichiro makes when he points his bat toward the stands.
Mr. Goromaru, a rugby player, used to strike a unique pose before a kick.
Many athletes have routines to increase their concentration.
Irie's coach's words inspired him to acquire a pre-game routine of "smiling.
Looking ahead to the Olympics, Irie said, "It's important to have an 'Irie smile' to ease my nerves. I think I'll be able to show my 'Irie smile' five times (before the final).
Still, the Olympics is a once-in-four-years event. Moreover, this is the first time for a female boxer to compete in this historic event. There is no doubt that she will be extremely nervous.
After the quarterfinals on March 28, when she won the medal, she said, "I tried to smile, but my cheeks were pulled together. Irie admitted that she was a little stiff before the match.
In an interview after the victory, he said, "I've only lived for 20 years, but this is the happiest I've ever been. I was so nervous that I couldn't even finish my favorite food, but I'm glad it turned out well," he said with a big smile.
The young boxer, 20 years old, was not only agile in the ring with his left jab and straight right, which are his specialties, but also with his new routine of "smiling" outside the ring, he achieved the best result of all, the gold medal.
Source: https://www3.nhk.or.jp/news/html/20210803/k10013178051000.html