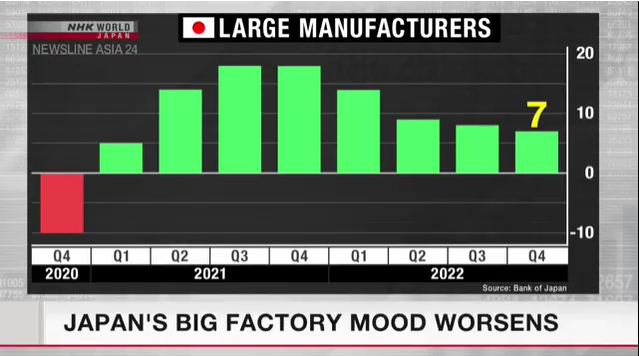 Japan's big factory mood worsens for fourth straight quarter
The Bank of Japan's closely-watched Tankan survey shows that business sentiment among major manufacturers has worsened for the fourth straight quarter. The main cause was soaring costs for raw materials.
The BOJ polled over 9,000 companies from early November to early December. The survey puts the headline index for large manufacturers' mood at plus 7. That's down 1 point from the previous survey in September. Higher material prices are pushing up costs and increasing pressure on earnings.
In the survey, a positive number indicates that more companies feel business conditions are good than those taking a negative view.
But for large non-manufacturers, the opposite is true. The latest Tankan's figure is up 5 points to plus 19 for the 3rd consecutive quarter of improvement.
Coronavirus restrictions have been eased, allowing more activity within the country and the return of foreign tourists. Efforts to boost domestic travel and consumption are also improving sentiment.
The outlook for the next quarter could be clouded by cost pressures, the prospect of slowing global demand and a possible resurgence of coronavirus cases. Both big manufacturers and non-manufacturers expect business conditions to worsen.
Source: https://www3.nhk.or.jp/nhkworld/en/news/20221214_20/