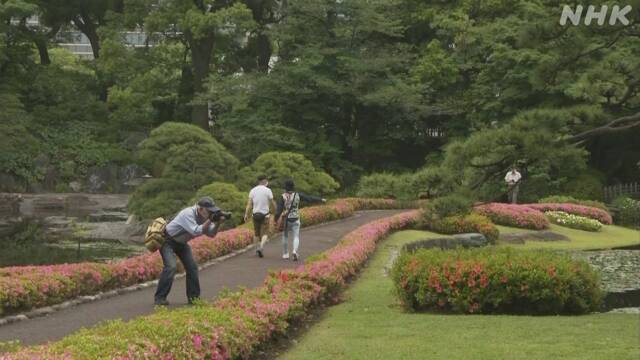 Japan Imperial Palace Garden
Japan - Opening of The Imperial Palace East Gardens After Two Months
The opening of the Imperial Palace and the Imperial Garden, which was temporarily closed to prevent the spread of the new coronavirus, was resumed for the first time in about two months.
The Higashi-Gyoen was constructed with the remains of the main castle of the former Edo Castle as a garden attached to the Imperial Palace. Since the end of March this year, measures have been taken to completely close the park, but the Imperial Household Agency called for measures to prevent infection. It has been reopened on the 2nd.
At the Otemon gate of the Imperial Palace, when the reception for the park started at 9 am, the visitors in masks sterilized their hands and fingers and headed for the East Gardens.
In the Ninomaru garden in the park, 84 kinds of colorful Hanashobu are in full bloom, and the visitors enjoyed taking a walk by taking pictures. A 75-year-old woman from Setagaya Ward said, "I was waiting for the reopening while watching the Internet. I was looking forward to seeing the flowers of Shobu".
An unemployed man in Hachioji City, Tokyo, who visits the Imperial Palace almost every year, smiled, saying, "This is the first time in an imperial palace without so many people. It was a pleasant walk". General visits to the Imperial Palace were resumed on the 2nd.
Source: https://shorturl.at/bqxz9