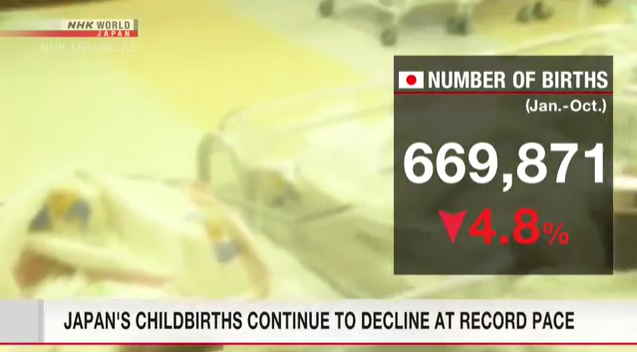 Japan childbirths continue to shrink at record pace
The number of births in Japan is continuing to shrink at a record pace.
The health ministry says in its preliminary report that 669,871 babies were born in the first 10 months of this year. That includes births to foreign nationals.
The figure is 33,827 less, or 4.8 percent lower, than the number from the same period last year. The monthly number of childbirths year-on-year has also fallen for the ninth straight month since February.
At this rate, the number of births in Japan in 2022 is likely to drop below 800,000. It will be the first time since record-keeping began in 1899. In 2021, there were 811,622 births.
The Japan Research Institute last month projected that about 770,000 babies would be born in 2022.
The National Institute of Population and Social Security Research forecast in 2017 that births would not fall below 800,000 until 2030.
Source: https://www3.nhk.or.jp/nhkworld/en/news/20221221_10/