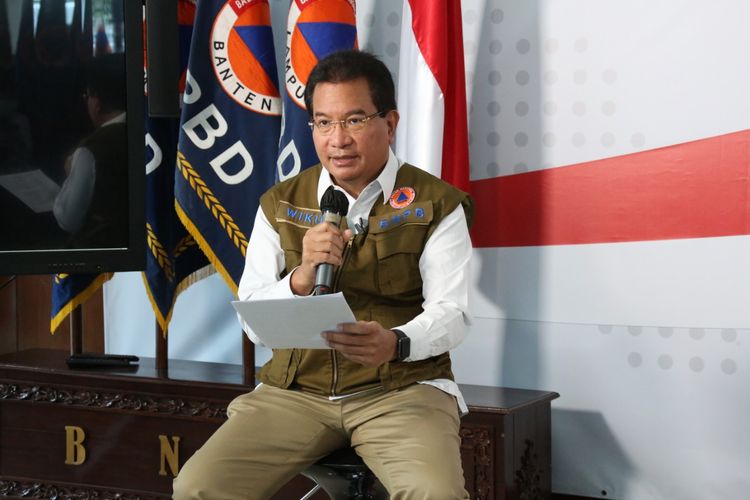 The Spokesperson of Indonesian COVID-19 Task Force, Wiku Adisasmito. (Image via Kompas)
Indonesian Government makes sure COVID-19 vaccine is ready
Indonesian Government keeps on coordinating with the regional government in order to ensure safe and sound distribution of the novel coronavirus disease (COVID-19) vaccine. One of the efforts is by preparing the logistics of the COVID-19 vaccine.
Speaking on Thursday's press conference at National Board for Disaster Management (BNPB) office, the Spokesperson of the Indonesian COVID-19 Task Force, Wiku Adisasmito, revealed that generally, the readiness of the regional government is adequately good. He stated that the COVID-19 vaccine distribution will be done gradually, with the high-risk population as the priority.
Moreover, Wiku recounted that the clinical trial of the Chinese-flagged vaccine, CoronaVac from Sinovac, is currently held at Padjajaran University and PT Bio Farma. The clinical trial aims to monitor the safe dosage and adverse event that might be triggered by the vaccine. Next, the result of the clinical trial will be submitted to the National Agency of Drug and Food Control (BPOM) as the requirement to be granted the emergency use authorization (EUA).
Meanwhile, the COVID-19 vaccine developed by the Eijkman Institute for Molecular Biology, dubbed Merah Putih vaccine, will be one of the vaccine candidates to tackle the COVID-19 pandemic in Indonesia, happening since March 2020. Once passed the pre-clinical and clinical trial, "Merah Putih" vaccine is waiting for the distribution permit by Q3 2021. Wiku asserted that the Indonesian Government will not let half-baked COVID-19 vaccine to be distributed. It must be safe & effective with little to no adverse event, and of course, halal.
Currently, the Indonesian Government is educating its people on the important role of vaccination in tackling the COVID-19 pandemic. By distributing the vaccine, the objective of the herd immunity will be faster to achieve. To ensure compliance to the vaccine, Wiku said that the regional government has the authority to sanction people refusing to be vaccinated.
Source: https://bit.ly/37MsF5U