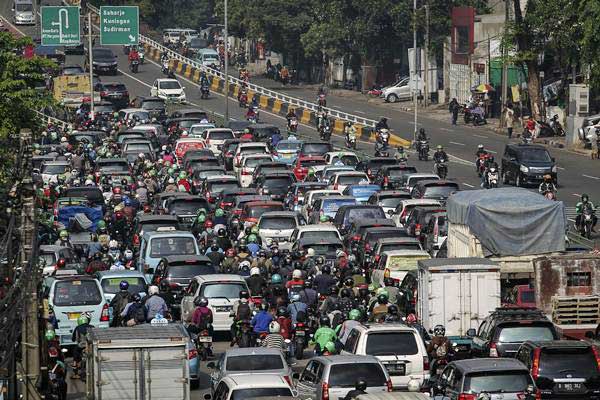 As the long holiday has begun, the epidemiologists are afraid of COVID-19 case spike in Indonesia. (Image via Ekonomi Bisnis)
Indonesian epidemiologists worry another COVID spike during the long weekend
While Indonesian people are enjoying long weekend until 1 November by travelling, Indonesian epidemiologists worry that it might trigger another surge in the novel coronavirus disease (COVID-19) infection case. An epidemiologist from the University of Indonesia (UI), Pandu Riono, could not help but feel hopeless concerning COVID-19 case in Indonesia as the government policies to suppress mass mobility are contradictive instead. For example, Pandu noted that while the government is telling people to stay at home, the flight ticket is sold at a cheaper price.
Pandu did not provide any suggestion and surrender it all to the Indonesian government. However, he warned about the possibility of the COVID-19 case spike that could pose a threat to the medical ability and availability. Pandu also projected that the case number will go higher after the long weekend has ended.
Moreover, Pandu explained that the government's warning for his people to stay at home is not working well because the policies contradict its warning, such as cheap ticket and removal of airport tax. Therefore, Pandu said that it is no accident that the government seems to let its people to "roam freely".
It has its own consequences. Pandu noted that after the holiday, COVID-19 infection case grew exponentially. For example, in mid-September, Bali experienced a spike in COVID-19 cases until 100%. Moreover, nine provinces also experienced COVID-19 case spike before the President of Indonesia, Joko Widodo (Jokowi) appointed Luhut Binsar Pandjaitan to handle the matter. Who to blame? Pandu blamed the long holiday.
Meanwhile, an epidemiologist from the Griffith University in Australia, Dicky Budiman, suggested the central government and local governments to keep enforcing 3T (tracing, testing, and treatment) protocol to suppress COVID-19 cases. Until when? Dicky estimated until the positivity rate reached below 5%. COVID-19 case usually grows by 80% after two long holidays per 23 May - 17 August 2020. Even more, for this long holiday, Dicky predicted at least 75 - 85% even though the 3T protocol is being maintained.
Source: https://bit.ly/2HHBXFC