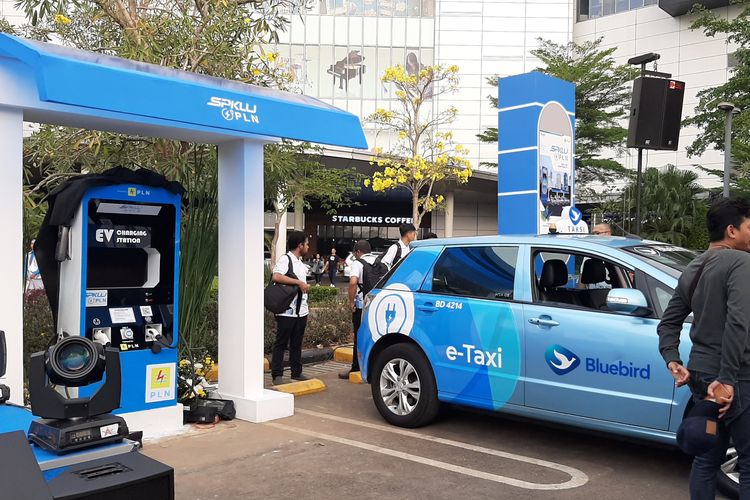 A Blue Bird electric taxi is charging up at a local Public Electric Vehicle Charging Station (SPKLU). (Image via Kompas Otomotif)
Indonesia to produce more electric cars by 2025
The Indonesian Government is encouraging the usage of the electric vehicle. The President of Indonesia, Joko Widodo, stated that the country aims to produce at least 19 thousand electric cars and 750 thousand electric motorcycles in 2025. The estimation followed the commitment of the participants and business players in the public launching of Battery Electric Vehicle (BEV) on Thursday. The event was attended by some ministry's officials and businesspeople in the transportation and automotive sectors.
Speaking on Friday through an official statement on the ministry's website, the Minister of Energy and Mineral Resource (ESDM), Arifin Tasrif, stated that the action was to support the 2030's target according to the initial grand design of energy projected by reducing of 77 thousand barrel of oil per day (BOPD) of fuel import to save foreign exchange income by $1.8 billion and cut the carbon dioxide emission (CO2-e) by 11.1 ton. In order to reach the target, Indonesia targets 2 million units of electric cars and 13 million units of electric motorcycles by 2030.
According to Arifin, the comparison of figures between the target and BEV commitment showed the huge opportunity for procurement and utilization of BEV. However, it requires cooperation and the active role of the electric vehicle's ecosystem. Moreover, Arifin noted that since the commitment is temporary, the figure might be adding up.
Furthermore, Arifin stated that the journey to BEV will be supported by the construction of some 2,400 Public Electric Vehicle Charging Stations (SPKLUs) and some 10,000 Public Electric Vehicle Battery Swap Stations (SPBKLUs) by 2025. The ESDM minister noted that Indonesia has the potential to be one of the key players of the emission-free vehicle industry.
As a country rich in nickel, Indonesia could easily make batteries for the electric vehicle since the technology and components used are simpler than conventional vehicles. Therefore, it is an enormous opportunity for the domestic automotive industry.
Source: https://bit.ly/3r5jiWt