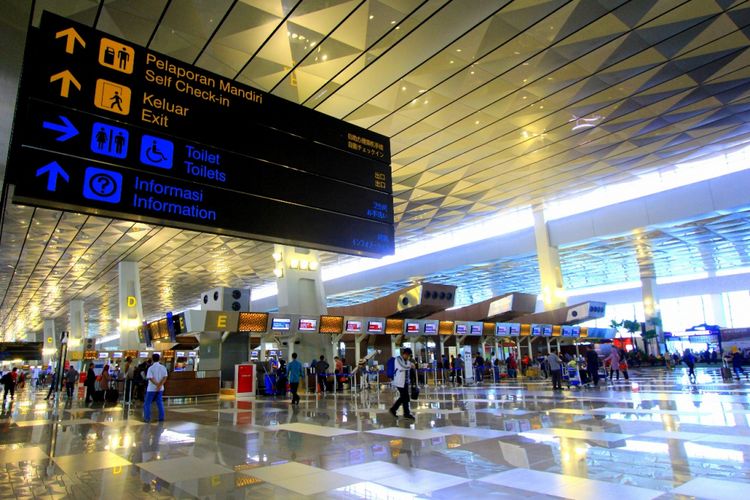 The interior of Terminal 3 of the Soekarno-Hatta International Airport. (Image via Kompas Travel)
Indonesia, Singapore to allow limited travel
Through a statement on Monday, Indonesia and Singapore had signed a reciprocal green lane (RGL) and its application will run into effect starting the upcoming 26 October. Quoting The Strait Times, RGL will allow essential business travel and official visitation between the two neighboring ASEAN countries. The eligible applicants for RGL Indonesian nationals and Singaporean nationals or residents.
The statement also requires the travelers to maintain preventive protocol of the novel coronavirus disease (COVID-19) and other health measures set by Indonesia and Singapore, including the COVID-19 swab test pre and post-arrival by the health agencies appointed by the two governments.
On 25 August, the Singaporean Foreign Affairs Ministry stated that it is discussing RGL with Indonesia to allow essential travel gradually. Previously on Tuesday last week, Indonesia's Foreign Affairs Minister, Retno Marsudi, held a phone talk with her Singaporean counterpart, dr. Vivian Balakrishnan, and said that Indonesia and Singapore were on the final phase of RGL negotiation. Both Retno and Vivian agreed that both countries needed to work closely in order to strengthen public healthcare, economic growth & investment, financial cooperation, and safe travel. Retno said that the government is ensuring the polymerase chain reaction (PCR) test would be conducted in the airport and asserted that only healthy individuals would be allowed to travel.
For the last five years, Singapore has been the biggest investor in Indonesia. A month ago, the President of Indonesia, Joko Widodo (Jokowi), stated his hope that Indonesia and Singapore would have finalized their RGL agreement as it will allow more Singaporean investment in Indonesia. According to the Investment Coordinating Board (BKPM), in Q1 of 2020, Singapore remains the biggest investor with Rp39.7 trillion investments.
The leaders of Indonesia and Singapore are expected to meet in late 2020 and Indonesia will be the host. However, due to the COVID-19, the meeting remains uncertain, whether it will be a physical or virtual meeting and even the date.
Source: https://bit.ly/2GEOQQP