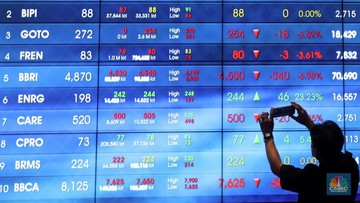 https://www.cnbcindonesia.com/market/20220530125637-17-342864/awas-tekanan-besar-ihsg-berisiko-longsor-ke-6950-di-sesi-ii
IHSG 7.148 as of Today, May 31th 2022
Jakarta, CNN Indonesia -- The Composite Stock Price Index (IHSG) closed higher on Tuesday (31/5). Now, the IHSG is at the level of 7,148, up 111.4 points or 1.58 percent.
Reported by RTI Infokom, investors made transactions amounting to Rp 33.89 trillion with 31.55 billion shares traded. Foreign market participants recorded a net buy in all markets of Rp 4.42 trillion.
At the close of this time 320 stocks rose, 234 corrected, and 146 others were stagnant. It was observed that two of the eleven sectoral indexes weakened, led by the technology sector by minus 1.47 percent.
Meanwhile, the rupiah exchange rate at 15:02 West Indonesian Time, was observed to have weakened 0.02 percent to the level of Rp 14,559 per US dollar.
Shifting to foreign exchanges, Asian stock markets appear to be mixed. Noted, the Nikkei 225 index in Japan fell 0.33 percent, the Hang Seng Composite Index in Hong Kong rose 1.28 percent and Kospi index in South Korea rose 0.61 percent.
European stock markets also looked mixed. Observed, the FTSE 100 index in the UK rose 0.16 percent, the CAC 40 index in France fell 0.89 percent, and the DAX index in Germany fell 0.71 percent.
Meanwhile, the United States stock market strengthened. The S&P 500 Index was up 1.78 percent, while NASDAQ index was up 3.33 percent.
Source: https://www.cnnindonesia.com/ekonomi/20220531150712-92-803231/ihsg-mengilap-7148-pada-hari-ini-31-mei-2022