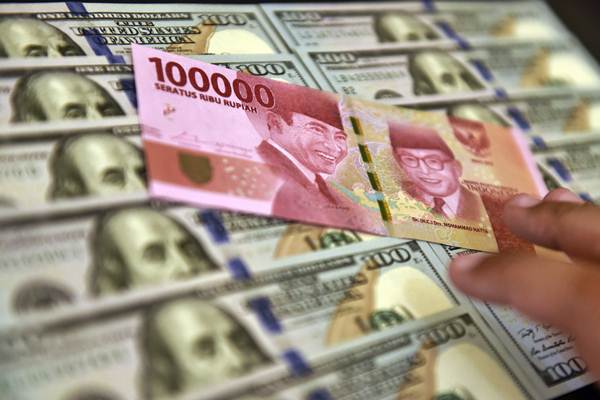 Indonesian Rupiah and U.S Dollar. (Image via Market Bisnis)
IDR strengthens to Rp14,390/USD
On Wednesday's foreign exchange (forex) spot market opening, the Indonesian Rupiah (IDR) was seen at Rp14,390 against the U.S Dollar (USD). The exchange rate strengthened by 0.10 percent, compared to Tuesday's closing rate at Rp14,405/USD. For today, IDR is moving around Rp14,290-14,450/USD.
This morning, the majority of Asian currencies weakened instead against the USD. Reportedly, the Japanese Yen (JPY) weakened by 0.20 percent, the Singaporean Dollar (SGD) by 0.17 percent, the Philippines Peso (PHP) by 0.05 percent, Chinese Yuan (RMB) by 0.06 percent, and Malaysian Ringgit (MYR) by 0.15 percent. On the other hand, some Asian currencies strengthened with IDR, such as New Taiwan Dollar (TWD) by 0.14 percent, S. Korean Won (KRW) by 0.09 percent, Indian Rupee (INR) by 0.44 percent, and Thai Baht (THB) by 0.07 percent.
Meanwhile, the currencies of developed countries reacted differently toward the USD. Reportedly, Great Britain Pound sterling (GBP) and the Australian Dollar (AUD) strengthened by 0.14 and 0.26 percent respectively. On the other hand, the Canadian Dollar (CAD) and Swiss Franc (CHF) weakened by 0.13 and 0.20 percent respectively.
Indonesian forex experts predicted that IDR might not be strengthening by the end of the day due to the capital outflow from today's trade activity. In the stock market, the market data shows that the foreign investor is making a net sell at Rp740 billion. While the net sell on Monday was seen at Rp414 billion, in two days, the capital outflow reached more than Rp1.1 trillion.
On the other hand, the US$1.9 trillion U.S fiscal stimulus also made the USD stronger. It is evident from the USD index that keeps on hiking. Yesterday, the index strengthened by 0.37 percent to 92.313, the highest level since November 2020. Meanwhile, the market anticipated the trend by releasing the obligation of the U.S Treasury, causing the hike in yield.
The hike was also triggered by the prospect of the U.S' economic recovery and increase in inflation, threatening the global financial market with Federal Reserve's tapering. Previously, taper tantrum once happened in 2013-2015 when the USD index skyrocketed, and IDR was one of the victims.
Source: https://bit.ly/38lvtqv