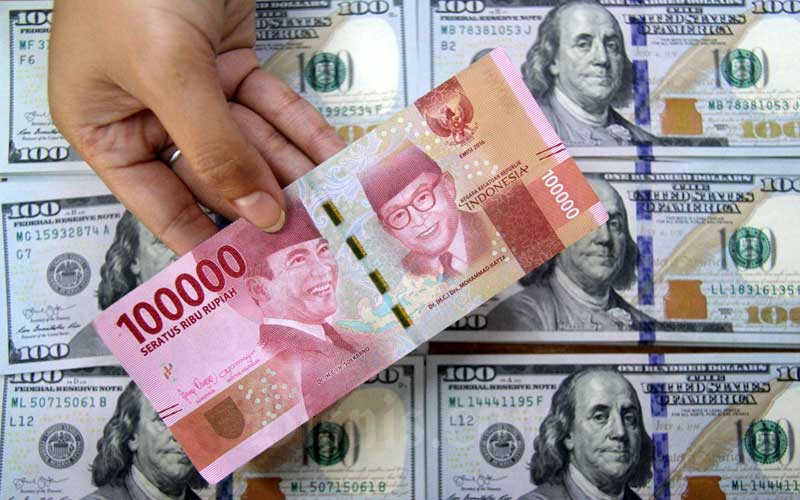 Indonesian Rupiah and U.S Dollar. (Image via Market Bisnis)
IDR strengthens to Rp14,380/USD
On Thursday's foreign exchange (forex) spot market opening, the Indonesian Rupiah (IDR) is seen at Rp14,380 against the U.S Dollar (USD). The rate strengthened by 0.37 percent compared to Wednesday's closing at Rp14,427/USD. For today, IDR is moving around Rp14,380-14,460/USD.
This morning, the majority of Asian currencies also followed IDR's step by also strengthening against the USD. Reportedly, the New Taiwan Dollar (TWD) strengthened by 0.03 percent, S. Korean Won (KRW) by 0.53 percent, Philippines Peso (PHP) by 0.14 percent, Indian Rupee (INR) by 0.01 percent, Chinese Yuan (RMB) by 0.15 percent, and Malaysian Ringgit (MYR) by 0.17 percent.
However, some currencies weakened instead. Thai Baht (THB) weakened by 0.10 percent, Japanese Yen (JPY) by 0.24 percent, and Singaporean Dollar (SGD) by 0.09 percent against the USD.
Meanwhile, the currencies of developed regions showed various reactions toward USD. Great Britain Pound sterling (GBP) and the Canadian Dollar (CAD) strengthened by 0.08 percent and 0.13 percent respectively, while the Swiss Franc (CHF) and the Australian Dollar (AUD) weakened by 0.09 and 0.38 percent respectively.
Indonesian forex analysts estimated that IDR might be weakening considering the huge capital outflow in March. Quoting the data from the Finance Ministry financing and risk management office (DJPPR) on 1-15 March, the foreign investors released their Government Securities ownership up to Rp20 trillion.
Nevertheless, there is hope for IDR's strengthening, since the U.S Treasury's yield began to decrease after the Federal Reserve asserted that it would not change its policy any sooner. The Governor of Federal Reserve, Jerome Powell, admitted that the 2021 inflation might touch 2.2 percent or above the benchmark set to prevent its economy from overheating.
Source: https://bit.ly/3vMwmT8