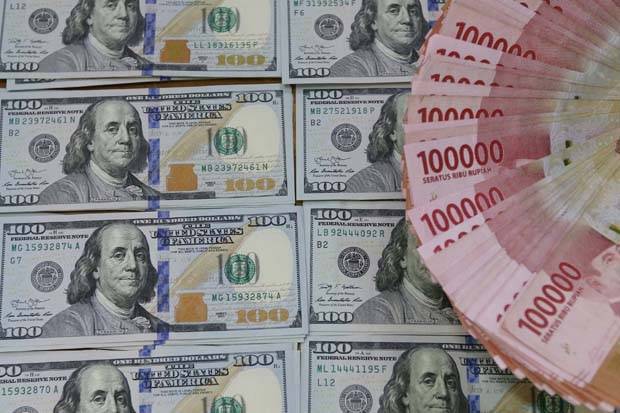 IDR strengthens against the USD (Image via RCTI+)
IDR strengthens to Rp14,100/USD
On Friday's foreign exchange (forex) spot market opening, the Indonesian Rupiah (IDR) is seen at Rp14,100 against the U.S Dollar (USD). The rate went up by 0.04% compared to Thursday's closing rate at Rp14,105/USD.
This morning, the majority of currencies of Asian countries strengthened against the USD. Reportedly, the Japanese Yen (JPY) went up by 0.07&, Singaporean Dollar (SGD) by 0.11%, New Taiwan Dollar (TWD) by 0.17%, S. Korean Won (KRW) by 0.22%, the Philippines Peso (PHP) by 0.02%, Chinese Yuan (RMB) by 0.04%, Malaysian Ringgit (MYR) by 0.18%, and Thai Baht (THB) by 0.17%. Only Indian Rupee (INR) withered by 0.14% against the USD.
On the other hand, the currencies of developed nations reacted variously against the USD. Great Britain Pound sterling (GBP) weakened by 0.11% and Australian Dollar (AUD) by 0.20%. Meanwhile, the Canadian Dollar (CAD) strengthened by 0.05% and Swiss Franc (CHF) by 0.08%.
Indonesian forex analyst and head of research at Monex Investindo, Ariston Tjendra, stated that the optimism that the vaccine for novel coronavirus disease (COVID-19) is going to obtain authorization caused IDR to strengthen today. Tjendra noted that Pfizer's vaccine is waiting for U.S Food and Drugs Administration (FDA) official authorization as the FDA's advisory committee already gave it a green light. Moreover, England, Canada, and Bahrain already authorized Pfizer's vaccine first.
Besides, the market players are still waiting for the news on the U.S fiscal stimulus that might support the rate of risk asset. Therefore, Tjendra assured that for today IDR will strengthen against the USD at around Rp14,050 - 14,150/USD.
Source: https://bit.ly/2K9fGlk