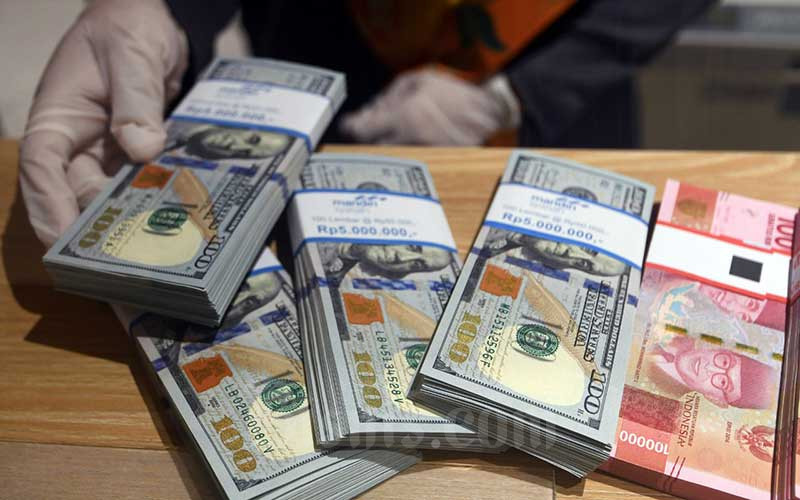 Indonesian Rupiah and U.S Dollar (Image via Market Bisnis)
IDR rises to Rp14,120/USD
On Thursday's foreign exchange (forex) spot market opening, the Indonesian Rupiah (IDR) is seen at Rp14,120 against the USD. The rate went up by 0.04 percent compared to Wednesday's closing rate at Rp14,125/USD.
This morning, the majority of currencies of the Asian countries strengthened altogether against the USD. Reportedly, Japanese Yen (JPY) strengthened by 0.08 percent, Singaporean Dollar (SGD) by 0.17 percent, New Taiwan Dollar (TWD) by 0.02 percent, S. Korean Won (KRW) by 0,04 percent, Philippines Peso (PHP) by 0.01 percent, Indian Rupee (INR) by 0.07 percent, Chinese Yuan (RMB) by 0.10 percent, Malaysian Ringgit (MYR) by 0.04 percent, & Thai Baht (THB) by 0.11 percent.
Following the trend, the majority of currencies of the developed countries also prevailed against the USD. Reportedly, Great Britain Pound sterling (GBP) 0.04 percent, the Australian Dollar (AUD) by 0.07 percent, the Canadian Dollar (CAD) by 0.05 percent, & Swiss Franc (CHF) by 0.02 percent.
An Indonesian analyst and head of research at Monex Investindo, Ariston Tjendra, stated that IDR's strengthening was the product of the U.S' expectation of the fiscal stimulus. Reportedly, the negotiation for the fiscal stimulus is still ongoing and the market expected the huge stimulus to be released before 2021. On the other hand, the low-interest rate by the Fed also supported IDR's growth, restating its statement to maintain the benchmark interest rate at 0 percent and asset purchase for U.S' economy recovery.
Domestically, the limiting of people's mobility and activity during Christmas and New Year's holiday also gave hope for IDR. Reportedly, the Governor of Jakarta would cut the business hours for malls, restaurants, and cafes for the 2020 Christmas and 2021 New Year until 7 p.m, from previously 9 p.m. The spike in COVID-19 cases has been holding IDR back. For today, IDR is expected to move around Rp14,050 - Rp14,180/USD.
Source: https://bit.ly/2Wp9f0c