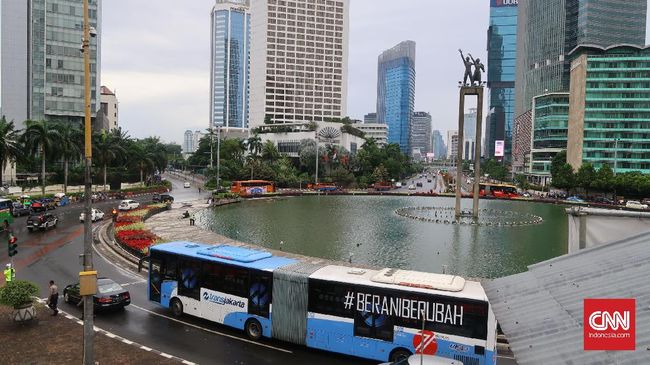 CNN Indonesia/Abi Sarwanto
Hotel Indonesia Roundabout Traffic Engineering Trial Starts Today
The Jakarta Transportation Agency is conducting a traffic engineering trial at the Hotel Indonesia Roundabout, Central Jakarta from 16:00 to 21:00 today, Monday (4/7/2022). The traffic engineering trial is carried out in an effort to unravel the density of vehicles traffic in the area.
"The traffic engineering trial will be held on July 4-10, 2022 at 16.00-21.00 Western Indonesia Time," quoted the @dishubdkijakarta Instagram account.
The Jakarta Transportation Agency appealed to road users to obey officers in the field during the trial period of traffic flow diversion. The public is also asked to adjust the traffic arrangements set. "It is appealed to road users, to comply with the diversion of the flow and adjust the established traffic arrangements, as well as obey the instructions of officers in the field, and prioritize safety," translated from the @dishubdkijakarta Instagram account upload.
The following is the Traffic Trial Engineering Route at HI Roundabout.
1. Traffic diversion from south to east on a limited basis and priority for Transjakarta buses and VVIP groups.
2. Diversion of traffic flow from east to north.
3. Traffic from south to east is diverted through MH Thamrin Street, make a U-turn at the Horse Statue Roundabout, or in front of the Ministry of Transportation building.
4. Traffic from the east heading west or north is diverted to turn left via Jalan Jenderal Sudirman, make a U-turn at Underpass Sudirman Landmark-Galunggung Street turn left to Kuningan BNI, Sudirman Street, and so on.
Source: https://www.cnnindonesia.com/nasional/20220704065059-20-816762/uji-coba-rekayasa-lalu-lintas-bundaran-hi-dimulai-hari-ini