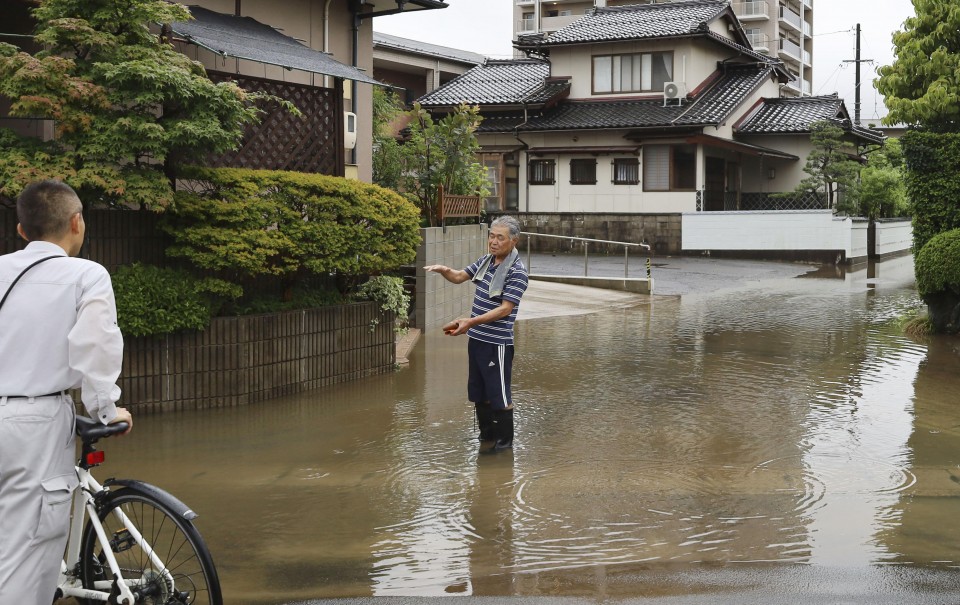 https://english.kyodonews.net/news/2021/07/a209c738d63e-heavy-rain-expected-on-sea-of-japan-coast-flood-warning-issued.html
Heavy rain expected across much of Japan
Japanese weather officials are warning of possible landslides and flooding triggered by heavy rain across much of the country.
The Meteorological Agency says warm, damp air from the south has been feeding the seasonal rain front, causing rain clouds to develop over western Japan. Rain is getting heavy in eastern Japan as well.
The city of Hiroshima had 142 millimeters of precipitation over a six-hour period through 8:30 a.m. on Thursday. Takehara City, also in Hiroshima Prefecture, had 171.5 millimeters. These areas had more than half the average rainfall for July in just six hours.
Parts of western Japan along the Sea of Japan coast had record rainfall on Wednesday, as a band of rain clouds developed over the region.
People in Tottori City have been urged to seek safety immediately. Landslide alerts have been issued for parts of Shimane, Tottori, Hiroshima, Okayama and Hyogo prefectures.
Western and eastern Japan should brace for downpours through Friday, accompanied by thunder and lightning.
Some parts of western Japan can expect up to 150 millimeters of rain over a 24-hour period through Friday morning, while central Japan can expect up to 100.
A landslide alert for Atami City in Shizuoka Prefecture, where massive mudslides occurred on Saturday, was lifted on Wednesday.
But the region will likely have thunderstorms on Thursday, and cloudy or rainy weather through Monday.
Source: https://www3.nhk.or.jp/nhkworld/en/news/20210708_07/