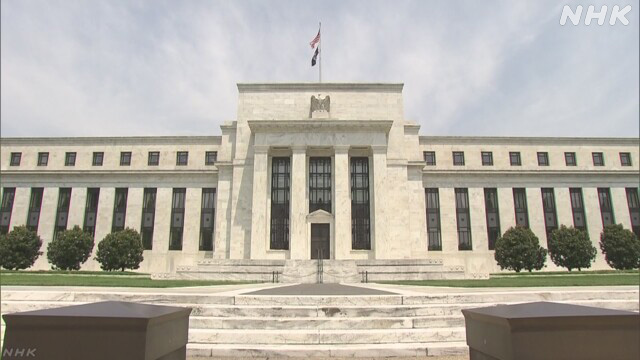 https://www3.nhk.or.jp/news/html/20220616/k10013674061000.html
FRB 0.75% sharp rate hike to curb inflation for the first time in 27 years
At a meeting held until June 15th, the Federal Reserve Board, the central bank of the United States, decided to raise interest rates by 0.75% for the first time in about 27 and a half years. With no signs of convergence in record inflation, we have taken an unusual step to further expand the previously indicated rate hike.
FRB held a two-day monetary policy meeting until June 15th and decided to raise the policy rate by 0.75%.
This is the first time in about 27 and a half years since November 1994 that the interest rate has risen by 0.75%, which is three times the normal rate, and the policy interest rate will range from 1.5% to 1.75%.
FRB decided to raise rates by 0.5% at last month's meeting to curb inflation and said it would continue to raise rates by the same amount at this month and next month's meetings.
However, there are no signs of convergence in inflation against the backdrop of soaring energy prices and wage increases due to labor shortages, such as the rate of increase in consumer prices last month expanding to 8.6% for the first time in about 40 and a half years. Therefore, we have taken an unusual response to further expand the rate hike shown in advance.
In addition, we will continue to take measures called "quantitative tightening," in which financial assets such as government bonds held are gradually reduced.
In addition, at this meeting, participants predict on the pace of future interest rate hikes were presented, and the median policy rate outlook at the end of the year was 3.4%, a significant upward revision from 1.9% in March last year.
This shows that the remaining four meetings of the year will require an additional 1.75% rate hike.
FRB will focus on curbing inflation by further accelerating monetary tightening, but the market is becoming more cautious about overcooling the economy.
In the foreign exchange market, the yen's depreciation and the dollar's appreciation are rapidly progressing against the backdrop of the difference in the direction of monetary policy between the United States and Japan.
FRB Chair Powell "Unexpectedly Inflation Rise Again"
At a press conference after the meeting, FRB Chair Powell said, "Unexpectedly inflation has risen again and people's expectations for inflation are high, so strong action has been taken. I thought it was appropriate," revealing that the consumer price index released on June 10th of last week triggered an increase in interest rate hike.
Also, the outlook for next month's meeting is "the 0.75% rate hike is clearly unusual, and I don't think this is normal, but next time it's likely to be 0.5% or 0.75%." he stated that he would continue to raise interest rates significantly.
On the other hand, regarding the possibility of a larger 1% rate hike, he only stated that, "it can only be said that we will respond with incoming data."
"the US economy is in a strong position to cope with rising interest rates and is well prepared," Powell said in response to market concerns that accelerated monetary tightening could overcool the economy.
Source: https://www3.nhk.or.jp/news/html/20220616/k10013674061000.html