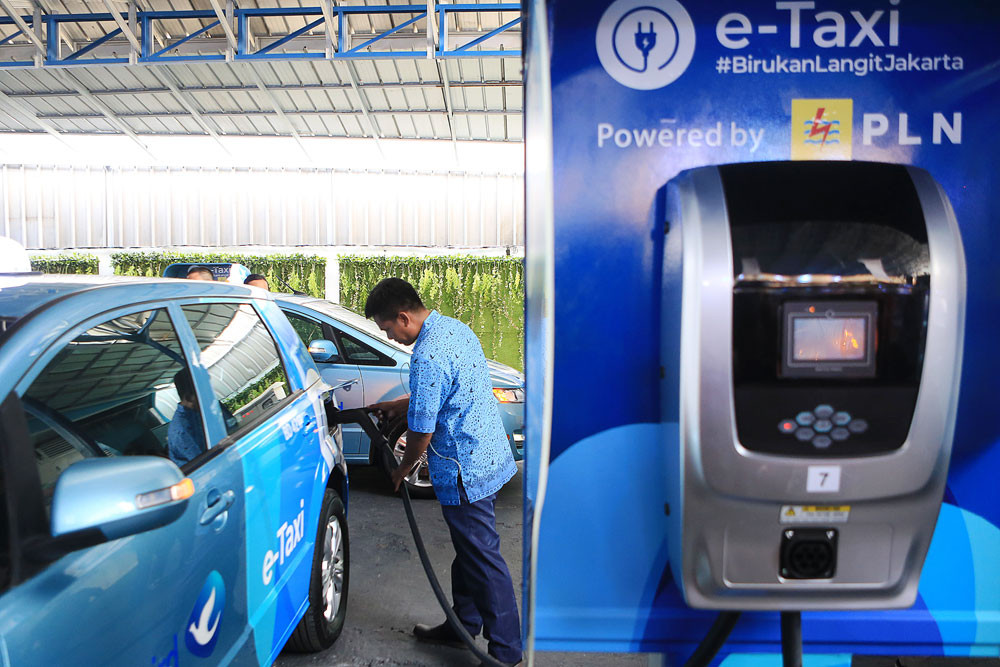 Blue Bird taxi driver is charging his car at an electric station. (Image via The Jakarta Post)
ESDM wants PLN to install charging stations for EV immediately
The Ministry of Energy and Mineral Resources (ESDM) set the target for Indonesian-owned electric company, PT PLN (Persero), to build 24,720 charging station units for the electric vehicle (EV) throughout Indonesia by 10 years. Currently, the country only has 100 units of charging station.
Speaking during the launching event of PLN Charge In on Friday, the Director-General of Electrification at ESDM, Rida Mulyana, stated that the charging station is distributed at Indonesian fuel stations (SPBUs), gas-filling stations (SPBGs), offices, hotels, department stores, parking stations, and rest areas.
Furthermore, she stated that her team is making strategies to minimalize fuel imports. One of which is by encouraging EV usage. Rida targeted that there would be 2 million EVs and 3 million electric motorcycles by 2030. The effort might suppress fuel consumption to 77,000 barrels per day, and greenhouse gas emissions equivalent to 7.23 million tons of carbon dioxide. The effort refers to the Presidential Regulation no. 55 of 2019 on the Fast-Track Program for Battery-Powered Electric Vehicles for Road Transportation.
The Transportation Minister, Budi Karya Sumadi, also stated that the fast shift from fossil-fueled vehicles to green vehicles is one of Indonesia's hopes. Budi Karya revealed that currently, the air soundness in Jakarta has reached 129 micrograms/cubic meter, or unhealthy. In fact, the air pollution in the Indonesian capital is one of the worst worldwide.
According to the guidelines from the World Health Organization (WHO), the healthy threshold for air quality is 25 micrograms/cubic meter. Meanwhile, the threshold set by Indonesia's Ministry of Environment and Forestry (KLHK) is 65 micrograms/cubic meter.
Source: https://bit.ly/36kG8R8