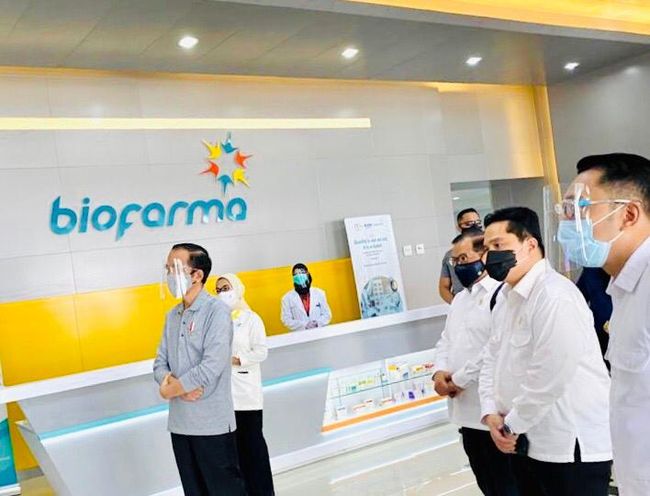 Indonesia-owned pharmaceutical company, Bio Farma, is acknowledged by the world as competent to produce COVID-19 vaccine. (Image via CNBC Indonesia)
Erick Thohir: Bio Farma is acknowledged by the world
Regarding the novel coronavirus disease (COVID-19) vaccine production, Indonesia's Minister of State-Owned Enterprises (BUMN), Erick Thohir, stated that PT Bio Farma's reputation is acknowledged by the world. The statement came after his visit to England with the Foreign Affairs Minister, Retno Marsudi. Coalition for Epidemic Preparedness Innovations (CEPI) listed PT Bio Farma as one of the competent companies to produce the vaccine for COVID-19. Speaking through a virtual call on Wednesday, Thohir asserted that Bio Farma is not to be doubted.
A more positive sign for Indonesia, Thohir said that CEPI and Bio Farma would cooperate in the pharmaceutical sector in the future, according to the positive result of due diligence done by CEPI on Bio Farma. Thohir added further that CEPI appreciated all researchers and pharmacists working around the clock to formulate the COVID-19 vaccine. Marsudi also said that British-flagged pharmaceutical company, AstraZeneca, agreed to supply 100 million COVID-19 vaccines for Indonesia gradually in early 2021.
Moreover, Thohir stated that the visit also opened more collaboration opportunities between Indonesia and England in various sectors. For example, Thohir aimed to establish health tourism in Bali and Sumatra, making Indonesia a regional player. In addition, Indonesia and England will cooperate to enhance their education sector, especially tourism and hospitality. Not only health and pharmacy but Thohir also said that Indonesia would cooperate with England for renewable energy and defense sectors.
Source: https://bit.ly/2IoLt0C