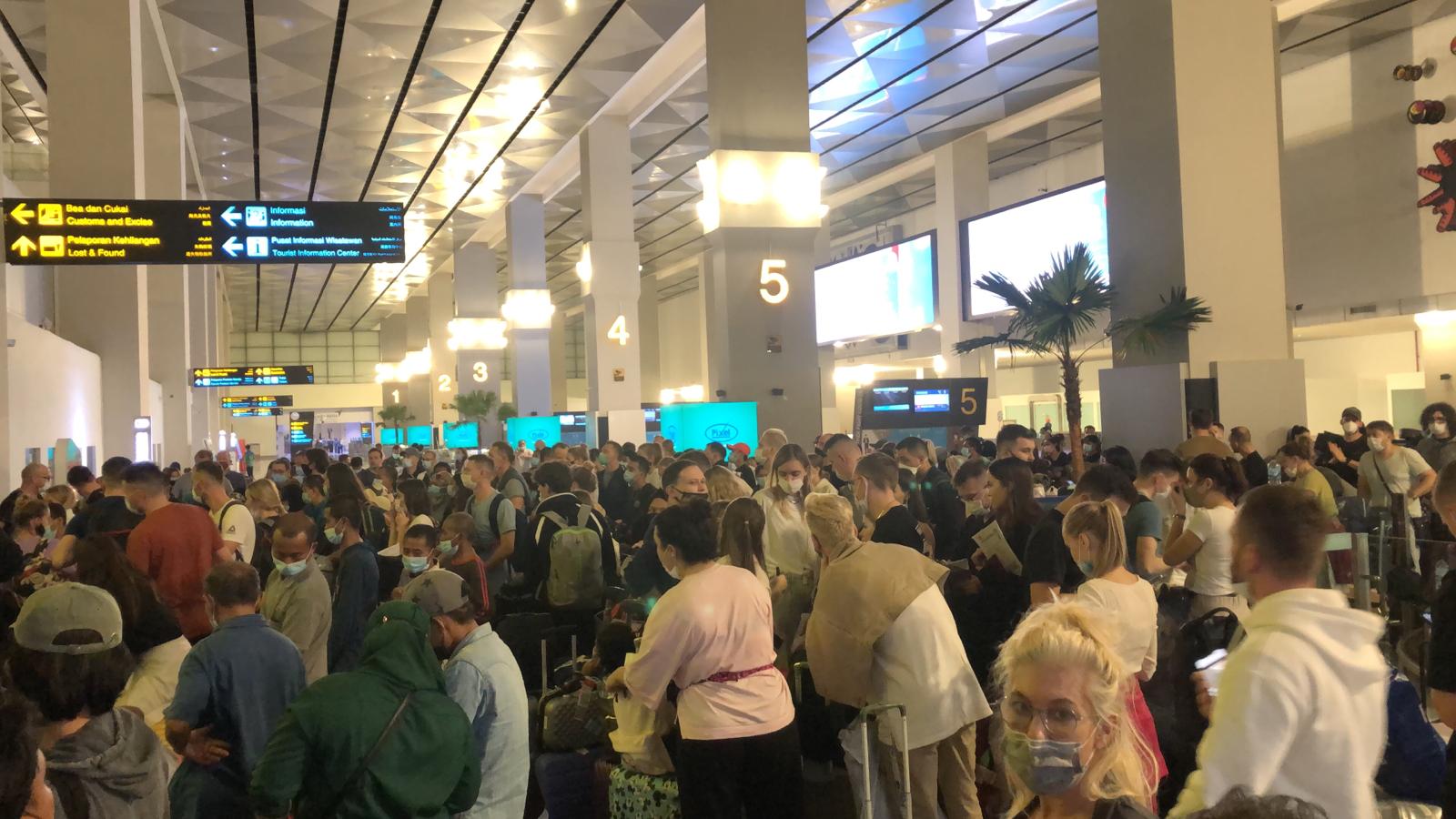 Picture uploaded Monday night on Twitter by Aris Ramdhani, showing the mass crowd at Terminal 3 of Soekarno-Hatta International Airport. (Image via Twitter/@arisrmd)
COVID-19 isolation, hundreds of foreigners crowded Soetta
Hundreds of foreign visitors crowded the Terminal 3 of Soekarno-Hatta International Airport on Monday night. The mass crowd was caused by the five-day mandatory isolation policy against the novel coronavirus disease (COVID-19). According to Tuesday's statement by the Head of Soekarno-Hatta's Port Health Authority (KKP), dr. Darmawali Handoko, about 200 foreign visitors crowded the airport. Fortunately, they were already transferred to hotels.
Darmawali said that the foreign visitors once complained about the absence of prior notification regarding the five-day mandatory isolation at the hotel. On the other hand, he said that his team already distributed the information through foreign media broadcasts.
For him, the crowd happened for quite a moment and was hard to control. It was due to the crowd, consisting of foreign and domestic visitors, had to wait for the bus to take them to the hotels. Darmawali stated that the Indonesian National COVID-19 task force also lent a hand in maintaining the health protocols to prevent the COVID-19 outbreak at the airport. Therefore, Darmawali stated that his team would buff their surveillance until the upcoming 31 December, as starting 1 December, no foreign visitors are allowed.
He stated that foreign visitors arrived in Terminal 3 this morning as well. Yet, he assured that the condition was far more conducive as the number was not as many as yesternight.
Previously, a tweet was published by the general surgeon, Aris Ramdhani, who uploaded a photo showing the mass crowd at Terminal 3 of Soekarno-Hatta airport on Monday night. In the tweet, the foreign visitors are seen gathering without maintaining social distancing. The tweet invited various reactions from the Indonesian netizens. Per 8.30 a.m, the post received around 1,200 replies, 11,000 retweets, and 19,600 likes.
Starting 1 January to 14 January 2021, the Indonesian Government has decided to forbid foreign visitors from entering or transiting through Indonesian airports. The action was caused by the emergence of the new COVID-19 variant, first spotted in South Africa then Great Britain. Despite that, the foreign visitors arriving in Indonesia on 28 - 31 December 2020 are required to follow the COVID-19 task force's regulation.
Written in the circular, the foreign visitors, having arrived in Indonesia, are obliged to show COVID-19 negative results from the PCR test 2x24 hours prior to the departure. After that, the foreign visitors are also required to retake the RT-PCR test and observe a self-quarantine period for five days in the designated facility by the Indonesian Government. Then, they are required to take one last RT-PCR test. Should the test show negative, then they are allowed to enter Indonesia.
Source: https://bit.ly/37TntwT