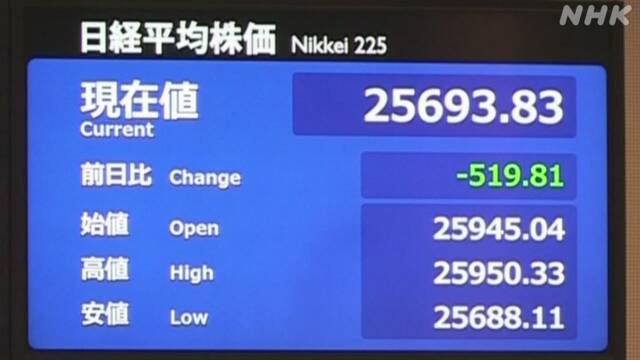 https://www3.nhk.or.jp/news/html/20220512/k10013622311000.html
Concerns Spread as Falling Stock Prices Prolonging Rising Price in the US
In the Tokyo stock market on May 12th, the rise in prices in the United States has been prolonged, and there has been widespread concern that the recovery of the world economy may be stalled, so sell orders have increased and stock prices have fallen.
▽ Nikkei Stock Average, closing price in the morning is 25,992.68 yen, which is 220.96 yen lower than the 11th.
▽ Tokyo Stock Price Index = Topics fell 5.10 to 1846.05.
▽ The trading volume in the morning was 72.13 million shares.
Market officials said, "the US consumer price index announced on May 11th was still at a high level, and due to concerns about prolonged inflation, major stock indexes such as the Dow Jones Industrial Average were mentioned in the New York stock market. In response to this, a wide range of stocks were ordered to sell in the Tokyo market, and the Nikkei average stock price dropped by more than 500 yen in the morning.
Source: https://www3.nhk.or.jp/news/html/20220512/k10013622311000.html