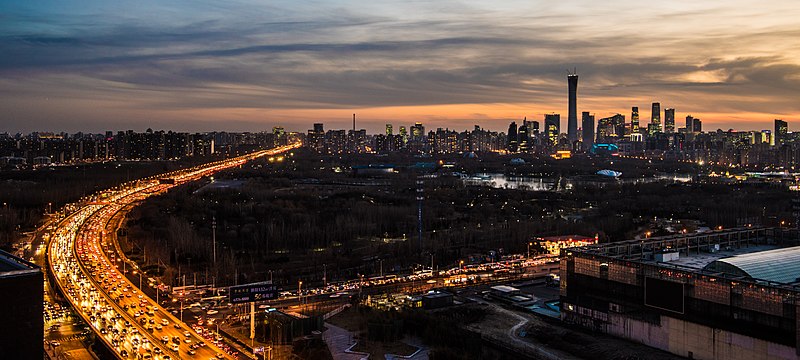 Aerial view of Beijing, the capital of China. (Image via Wikipedia)
China announces emergency as 5 new COVID variant cases emerge
The capital of China, Beijing, reported 5 new cases involving the new COVID-19 variant on Saturday last week. The Chinese Government immediately announced emergency status on the 5 new COVID-19 cases. The cases involving the new COVID-19 mutation was found in Nanfaxin, Shunyi, nearby Beijing International Airport.
The authority has not confirmed it officially since the five patients have not shown any new COVID-19 symptoms just yet. The recent cases made Beijing's COVID-19 total reach 13 cases since the first local transmission was reported just 152 days ago.
According to the South China Morning Post, the Shunyi and Chaoyang districts, the regions where COVID-19 transmission is the worst, are closed and tightly controlled. Moreover, the authority is also doing mass tests in the districts. More than 234,400 people in Chaoyang and More than 838,700 in Shunyi were tested for COVID-19 on Saturday.
Besides locking down the districts, the regional governments are enforcing mask-wearing protocol and temperature checks at public facilities. So far, there is a possibility that the schools might enter early break. However, the people are urged not to leave the cities during the New Year and Spring Festival holidays.
Zhou Weimin, an official from the Beijing Municipal Bureau of Culture and Tourism, stated that all parks, entertainment areas, and indoor public facilities are allowed to receive attendants up to 75 percent of their maximum capacity.
The reemergence of the COVID-19 cases in China happened amid China's plan to commence the mass COVID-19 vaccination program for 50 people on the high priority list. Around 100 million dosages of Sinopharm and Sinovac vaccine will be injected on 15 January 2021. The high priority list includes medical teams, police, firefighters, customs officers, cargo officers, and transportation and logistics officers.
Source: https://bit.ly/3aLxBK5