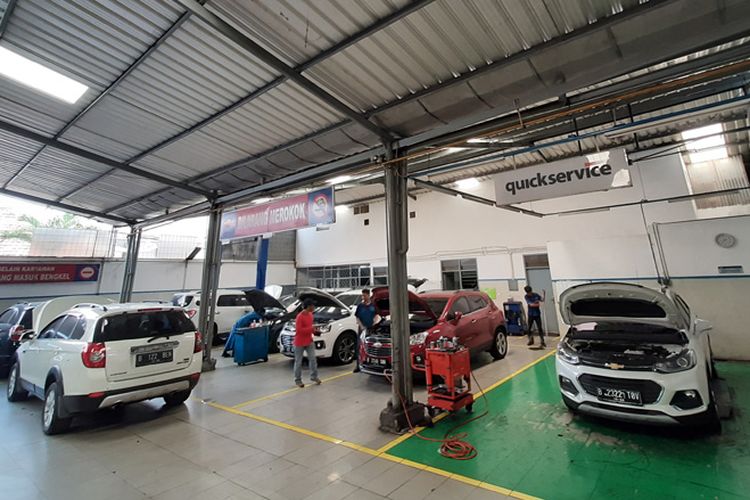 Chevrolet cars undergoing maintenance in an official service center. (Image via Kompas Otomotif)
Chevrolet leaves 30 service centers for 50,000 cars in Indonesia
After stopping its sales in Indonesia in April 2020, Chevrolet left around 30 official service centers. While it is not available throughout Indonesia, Chevrolet's official service centers are available in major Indonesian cities.
Approximately, the service centers will serve around 50,000 Chevrolet cars in Indonesia. Speaking on Wednesday, the Director for Customer Care and Aftersales Service at Chevrolet Indonesia, Dadan Ramadhani, revealed the locations of the official service centers.
They are available in Jakarta Bogor Depok Tangerang Bekasi (Jabodetabek), Bandung, Semarang, and Surabaya. Outside Java Island, Chevrolet Service Centers are available in Bali, Lombok, Medan, Balikpapan, Pontianak, Samarinda, Banjarmasin, Makassar, and Manado. Despite its departure last year, Dadan assured that Chevrolet is still serving its customers through its official service centers for aftersales services.
The service centers also provide services, repair, genuine spare parts, and warranty. Dadan stated that so far, the loyal customers of Chevrolet in Indonesia are still visiting the official service centers for maintenance and genuine spare parts. He said that from around 50,000 in the recent decade, about 60 percent are still coming to the official service centers.
Sole distributor of Chevrolet brand in Indonesia, General Motors (GM) Indonesia, stated in October 2019 that Chevrolet will no longer be available by 1 April 2020.
The departure of GM Indonesia, represented only by Chevrolet, was due to the low sales volume, making it unconducive to keep running. Following Ford's step in 2016, GM became the second American automotive brand to pull out of Indonesia. GM Indonesia also explained that it was difficult to cash in new investments as capital to keep the automotive business running.
The departure of the American-flagged car was marked by the clearance sale of Spark, Trax, Trailblazer, and Colorado cars with more than Rp75 million discount.
Source: https://bit.ly/2Qha8Z7