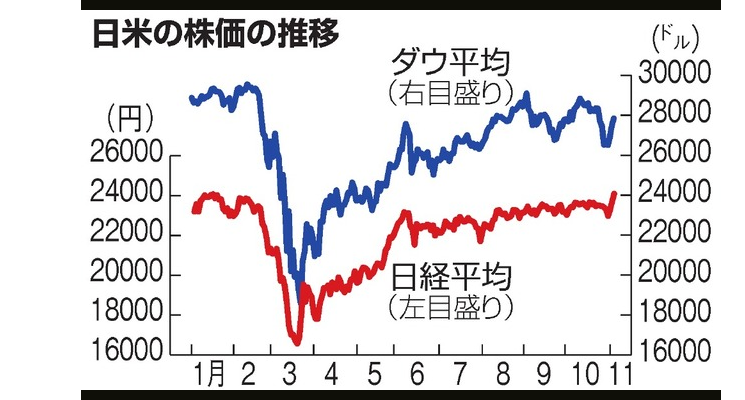 米株式市場は「ねじれ」好感 米IT株急騰、日本も上昇
Changes in Stock Prices for Japan and America
In the US presidential election, the predominance of former Vice President Biden is consolidating. On the other hand, it is more likely that the Senate will be the Republican Party and the House of Representatives will be the Democratic Party. Even if Mr. Biden wins, it will be difficult to realize policies such as tax increases and tightening of regulations.
If Mr. Biden becomes president, the immediate focus will be on developing additional fiscal policy to prevent a prolonged recession. It is necessary to proceed promptly based on the $ 2.2 trillion (230 trillion yen) bill compiled by the Democratic Party of the House of Representatives.
The key to the "reconstruction" of the United States is whether public investment to increase growth potential will be promoted while the zero interest rate policy by the US Federal Reserve Board (FRB) continues and the means of monetary policy are limited. Mr. Biden has taken in the intentions of the left-wing within the party and has promised a huge amount of financial mobilization for childcare/education, medical care, and climate change countermeasures. However, the US president does not have the right to submit budget bills and bills, and coordination with Congress is the biggest issue.
In this election, the Senate has a particularly strong authority to approve the personnel of ministers, and contrary to expectations, the Republican Party is more likely to keep the majority. "It's certain that the twisted government will continue," Neil Bradley, a senior member of the US Chamber of Commerce, said in a telephone interview yesterday. Ian Bremmer, an international political scientist, said in a press conference on the 4th, "Even if the country is divided, a lot of financial support should have been given to the needy people, but in 2021 The outlook that it cannot be fulfilled has become decisive. "
Source: https://www.asahi.com/articles/photo/AS20201105002669.html