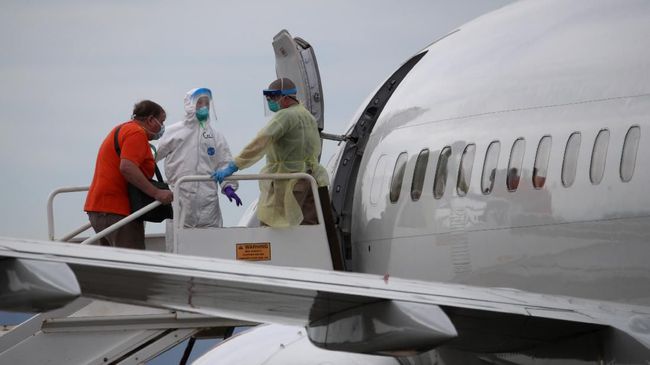 illustration of health protocol of COVID-19 in plane
Cambodia bans flights from Indonesia and Malaysia
The Cambodian government decided to temporarily ban flights from Indonesia and Malaysia because it detected new cases of corona virus infection (Covid-19) from passengers on the plane.
As reported by the New Straits Times, quoting the Khmer Times, Monday (27/7), the ban on flight arrivals was set to begin on August 1. The decision was made in a Cambodian Ministry of Health letter sent to Cambodian Prime Minister Hun Sen on Saturday last week.
The ban was proposed after the Cambodian Ministry of Health held an emergency meeting to discuss 23 new cases of Covid-19 which were detected from the arrival of their citizens who were flying and stopped in other countries.
They proposed implementing a ban on flights from Malaysia and Indonesia to prevent the spread of Covid-19. Because they also want to hold a Khmer New Year which has been postponed from April 13 to August 17.
According to the Khmer Times report, local officials noted that 108 passengers from Malaysia and Indonesia were detected positive by Covid-19.
Hun Sen approved the flight ban after receiving a proposal from the Covid-19 Cambodia Committee.
Most of the positive passengers of Covid-19 were Cambodians who arrived from Russia and the Middle East, and stopped in other countries.
A number of Cambodians have been trapped in the Middle East and Russia since Covid-19 was declared a pandemic.
Cambodia's decision to ban flights from Malaysia was made a day after the neighbor country said it would consider Cambodia to be included in the list of countries that could carry out travel bubbles.
On the other hand, the number of Covid-19 cases in Indonesia has now passed 100,000 people, and is the highest in the Southeast Asian region, and is in fourth position in Asia.
Source: https://bit.ly/2BGUgbr