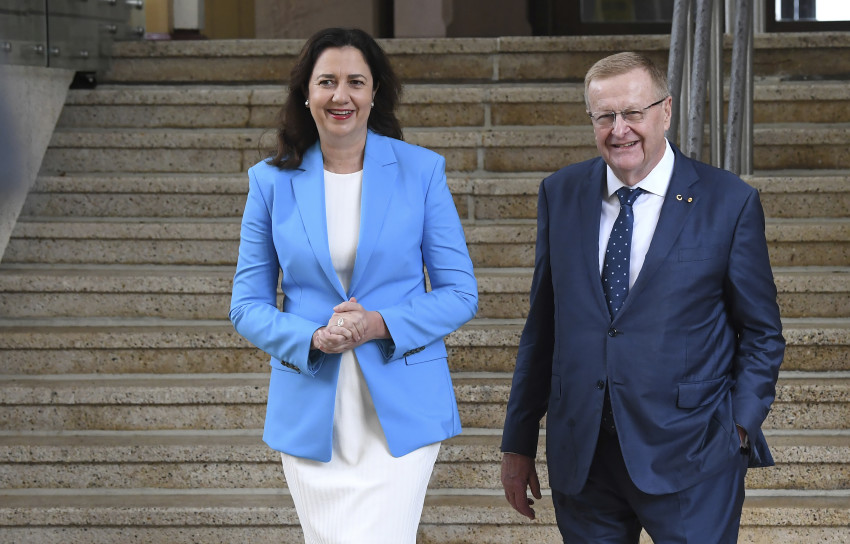 Premier of Queensland, Annastacia Palaszczuk, and the Vice President of IOC, John Coates. (Image via Japan Today)
Brisbane prepares for the 2032 Olympics
Australia proposed its bid for the 2032 Olympics, and the Australian people got the news on Thursday morning. While it is not finalized, the Olympics official John Coates, speaking on Thursday, wanted to get Australia to be the host for the 2032 Olympics. It is waiting for the International Olympic Committee (IOC) for another 12 months.
The President of IOC, Thomas Bach, stated on Wednesday in Switzerland that the IOC panel would start dialogues with Australian organizers. The auction for the 2032 Olympics also includes Qatar with Doha and Hungary with Budapest. Los Angeles was already offered the 2028 Olympics. China, Germany, India, Indonesia, and Russia are also racing to take the bid for the 2032 Olympics.
A long-serving president of the Australian Olympic Committee, Coates is now the vice president of IOC. Moreover, Coates is also the head of the coordination commission handling the Summer Olympics in Japan and the designer of the new framework to choose the host cities for the Olympics.
Previously in 2000, Coates was involved in realizing Australia's dream to be the Olympics' host with the 2000 Sydney Olympics. Long before, Melbourne was the host for the 1956 Olympics. For a long time, Coates already dreamed to make Brisbane, the third-largest city in Australia, the next host for the Olympics.
Coates stated that IOC has studied the plans and their feasibility. Now, it is up to the federal government to provide all the miscellaneous to pave their way. Therefore, there are a lot of works. Brisbane once became the host for the 1982 Commonwealth Games, the 1988 World Expo, and the 2014 G20 Summit.
The leader of Queensland state, Premier Annastacia Palaszczuk, applauded Coates' dream and is confident that Australia will unite to hold the 2032 Olympics. Moreover, the decision is also backed up by the Prime Minister of Australia, Scott Morrison. Palaszczuk also once met the IOC in Switzerland.
Palaszczuk claimed that Brisbane and its vicinities already had the facilities to support the Olympics. Therefore, it is eligible for the Games and of course, IOC does not have to pay more. But, it is up to them to build a new stadium for the opening ceremony and track-and-field tournament or upgrade the existing stadiums.
Source: https://bit.ly/2MmNJb5