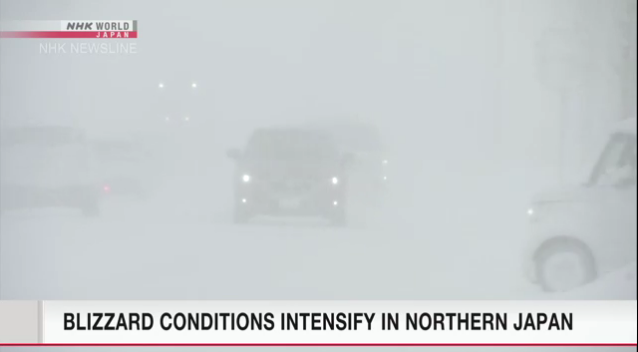 Blizzard conditions intensify in northern Japan
Japan's northern areas are experiencing heavy snow. Weather officials are urging people to stay alert for avalanches and traffic disruptions.
Japan's Meteorological Agency says cold air is flowing into Japan, bringing heavy snow mainly in northeastern Japan and in areas facing the Sea of Japan.
In Fukushima Prefecture, more than 50 centimeters of snow has fallen in just 12 hours. Meteorological officials are advising people to be on high alert.
Forecasters say snowfall ranging from 55 to 80 centimeters is possible in the northern region over 24 hours through Tuesday morning.
Officials warn that a blinding snowstorm could occur in the northern areas.
They are warning that the snowfall could disrupt public transport and cause blackouts. Drivers are advised to be cautious on slippery roads.
Source: https://www3.nhk.or.jp/nhkworld/en/news/20221219_12/